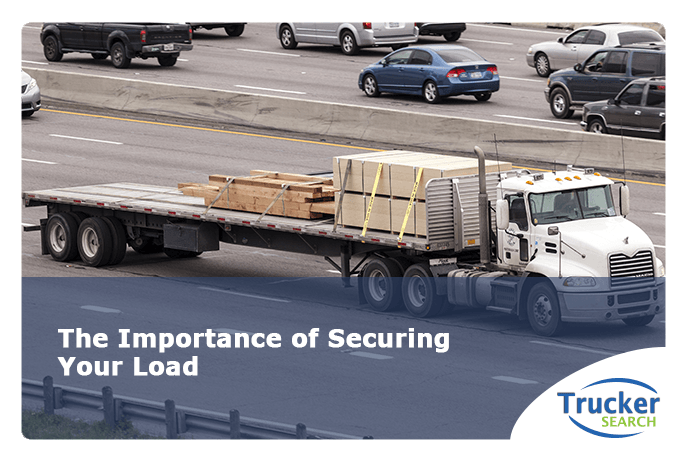 In early November, as a Sacramento woman drove her Impala down the highway, her car was struck by a large, metal bar that had fallen off a flatbed driving in front of her.  The bar flew through the engine compartment and into the front of the car where it impaled the woman's leg. The driver of the car was expected to be fine but accidents like this one are far too common and it highlights the need for drivers to secure their loads.
Danger
An improperly secured load is a danger to the driver, those who unload it, and everyone else who shares the road. Whether the truck is pulling a flatbed,  van, or dump trailer, the load that is in or on it, must be secured, as mandated by the DOT.   
Aside from the obvious debris coming off a flatbed, there are other hazards.  Pallets not secured can tumble in the back of a van trailer and boxes can fly out when the trailer is opened.  Items like hoses on tankers or tarps covering flatbed cargo can become dangerous if they are unsecured and flap in the wind.  For dump trucks, you may not be able to see what it's carrying but it can still fly out and crack your windshield. An unsecured load on a flatbed could cause freight to fall off into traffic or on a road where it can cause an accident resulting in injury or death.  
Your load should not only be secure but it also needs to be balanced.  Freight stacked too high can obstruct the flatbed driver's view or in a trailer, it can affect the trailer's center of gravity making easier to tip over.  Loads that are not balanced can adversely affect the truck's handling. 
It's not uncommon for a box or pallet to fall onto the driver as he/she opens the trailer.  The injuries can be serious. Carrying livestock can be extremely difficult because even if the livestock are secured, they will still move which can affect the handling of the truck.  
Securing the Load
No matter what the load or what kind of truck, there are lots of tools to use to secure the load.  Load bars and load straps have ends that hook into tracks on the walls inside the trailer.  Load bars work best with simple, boxy pallets where load straps work well for irregularly-shaped loads.  For trailers without tracks inside, pressure-fitted load bars work well. Other types of devices used for securing loads are chains, synthetic webbing, tiedowns, wire rope, synthetic rope, steel strapping, blocking, grab hooks, binders, shackles, and friction mats.
Each state has different regulations for securing loads so you need to be aware of rules for the states you drive in as well as federal rules.
Here are some ways that you can secure your load:
Drive smoothly.  Fast stops and starts or taking corners too fast can dislodge your cargo.

Help load the truck or observe during the loading process.

Be careful when opening your trailer door.  Don't stand directly in front as you open the door.  If it has two doors, open them one at a time.  

If something is falling, don't try to stop it.  Instead of damaged freight, you have a damaged body

and

damaged freight.

If you're pulling a flatbed, check your mirrors.  Your load must not obscure your view. Recheck periodically–when you stop or every few hours.  

Be aware of your trailer's center of gravity.  If freight is stacked too high, your trailer will have a high center of gravity and will be more likely to tip over. 

On flatbed trailers, the load must be secured with straps that keep it from shifting.

If using a tarp, it must be securely tied down to keep it from flapping in the wind as you drive down the road.

Covering the cargo with heavy tarps will protect the cargo and will help keep the cargo from falling off.  

Tankers need to secure all hoses used for loading and unloading the product.

Many states require dump trucks to use tarps to keep their loads secure.  Dirt, rocks, sand, stone or other things carried by them can fly out and be a real hazard for other drivers.  
In the case of the Sacramento woman, everything turned out okay but it could've been much worse.  Always ensure that your load is properly secured for your own safety as well as the safety of others.  
Trucker Search is a tool you need if you're looking for employment opportunities in the trucking industry.  On Trucker Search's website, you can post your résumé (which is a short form application) as well as search the ever-expanding database of companies looking for drivers and job postings.  It's a great resource for any driver starting out in the trucking industry.
Sources:  
https://sacramento.cbslocal.com/2019/11/04/metal-bar-flew-off-truck-impaled-woman/