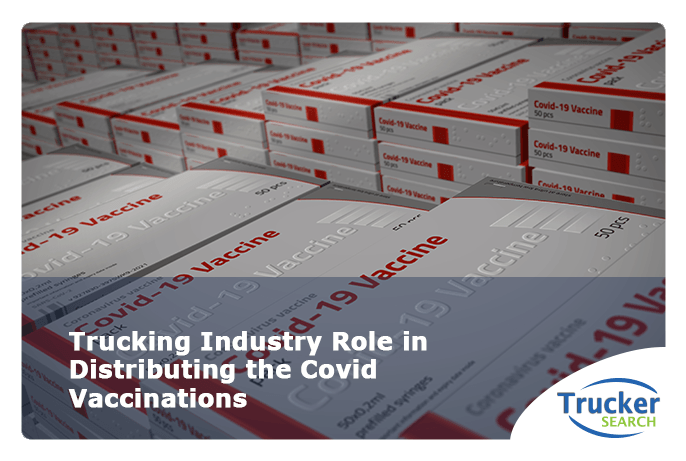 Tackling the pandemic has been on the minds of drivers since the beginning. From distributing daily essentials to ensuring vaccines will make it to their administration locations on time, truck drivers have provided a means for all of this to happen effectively. With the return to an almost pre-pandemic volume of trucks on the road, there is a new aspect of the industry to be explored and that is the logistical demands of vaccine transport and delivery.
Logistical Legends
While many transportation vehicles, of all varieties, will be used to ensure that vaccines are being transported throughout the country and worldwide, trucks are the most prevalent means of getting vaccines to where they are needed. Even after a vaccine shipment leaves a boat or plane, a truck will then transport it to its destination. Speed is crucial in the vaccination process, as of right now, due to the need throughout the nation and the requirement that the vaccines be kept cold to remain effective.
Many trucks have been fitted with new equipment to preserve the extremely cold temperatures necessary for the vaccine to be properly stored. Some companies have created specially designed containers to keep everything cool as well. According to CNBC, the only companies shipping vaccinations throughout the nation are the largest logistical organizations in the country, UPS and FedEx. They have decided to divide the states into groups that each respective company will ship the vaccines to in a "divide and conquer" strategy.
A Major Role
Huge shipments of vaccines are currently being transported all over the nation, and this will likely continue until most people have received vaccinations and there is no longer a need. This will likely take a while as vaccines can only be produced so fast. Even with one of the best logistical systems in the world working as quickly as possible, there are still limitations. However, it is truly incredible to think of the speed at which even the smallest of towns and largest of cities are receiving vaccinations to keep their populations safe.
Truck drivers play a crucial role in the supply chain as they are the bridge between producer and consumer. Without the bridge, the entire system would collapse. With the increase in vaccine production and need, truck drivers across the nation have stepped up to ensure that the bridge is strong and wide enough for adequate numbers of vaccinations to be provided. This is a difficult and stressful undertaking, and we would like to thank every driver that has taken part in distributing vaccines.
Unsung Heroes
Truck drivers across the nation, from those who have transported vaccines to those who ensure the store shelves are filled are the unsung heroes of the pandemic. They have transported these items everywhere that they have been needed, even when times were uncertain. Even though many drivers will likely not be a part of the vaccine distribution process, all drivers are important to the health and safety of all people in our nation and beyond.
Truck driving is a difficult, yet rewarding career, and there is definitely no greater reward than knowing that you are keeping thousands of people safe just by doing your job. Thank you to all drivers who have worked during this pandemic. Without you, things would have been much worse. With your hard work and dedication, we are on the path to rebuilding and becoming better than ever before!