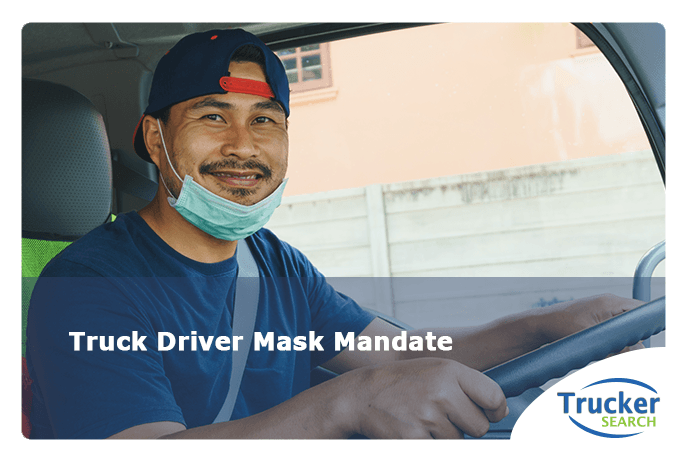 Due to recent events, there are many questions swirling around asking if truck drivers need to wear masks while driving. The President has issued executive orders that require facial coverings to be worn on federal lands and during interstate travel. Does this apply to you? We break it down below.
On January 21 2021, President Biden issued this executive order and there's been some confusion about it ever since. What is clear is that masks are now required for interstate travel on commercial aircrafts, trains, public maritime vessels, and any kind of hub or facility where people gather to use these modes of transportation.
Since this news broke, truck drivers everywhere have been questioning if this new mandate applied to them.
The short answer is that truck drivers are not mandated to wear a mask while operating their vehicle under this executive order from the President.
There is more to unpack however, so we're offering a longer answer below.
Since the executive order, there has been an additional order that helps clarify what this new mask mandate means for truck drivers. The follow up order that came from the Centers for Disease Control and Prevention (CDC) on January 29 added helpful information as it pertains to commercial motor vehicles (CMV) operators engaged in interstate travel.
Like everyone else, all CMV operators are required to wear a facial covering at transportation hubs. Put simply, where people are out of their vehicles and crossing paths with one another, you have to wear a mask. These places include private facilities, such as shipping and receiving stations, as well as public places such as truck stops.
Here's what you really might be wondering about: the CDC order specifically exempts truck drivers from wearing a mask if they are the "sole occupant of the truck."
What does that mean for team truck drivers? What if they are from the same household? Are they exempt?
These are issues that are left unclear from the CDC follow up to the executive mask mandate.
However, the Federal Motor Carrier Safety Administration (FMCSA) indicates that team truck drivers are indeed required to wear masks inside the vehicle while traveling. Whether or not the drivers are from the same household.
From the guidance there are, however, some exceptions to the mask requirements. These exceptions include the following:
Team truck drivers can take their masks off inside the vehicle for brief periods of time when eating, drinking, or taking medications.
They can also take off their mask if they are communicating with someone who is hearing impaired and the ability to see mouth movement is essential for communication.
A mask can be removed from another team truck driver is they are found unconscious, incapacitated, unable to be awakened, or cannot remove their own mask for a given reason.
If a law enforcement officer needs to verify a truck driver's identity during a traffic stop, the mask can be removed for a short period of time.
Additional exceptions for removing one's mask include if a truck driver is experiencing shortness of breath or is sick and vomiting.