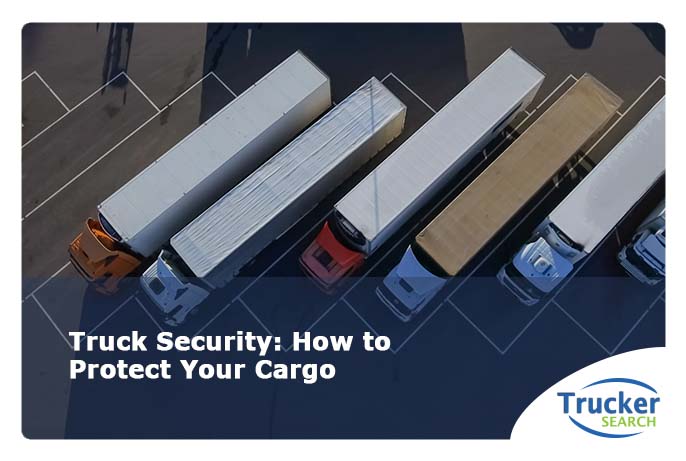 Theft is present no matter where you are or what you do for a living.  Whether you are a company truck driver, own your own semi-trailers, or rent them cargo theft is becoming more common and the dollar amounts that are lost continue to increase. Depending on what your cargo consists of, the value of your items could go beyond six figures. The total annual losses resulting from cargo theft are in the tens of billions of dollars. 
It doesn't matter what type of trailer you drive, own, or rent, all types are susceptible to theft. However, there is no need to be in constant worry that you will be robbed. There are steps you can take to help ensure that your cargo is safe, and by doing so, you will be protecting your reputation. 
9 Steps to Protecting Your Cargo and Semi-Trailers
Thieves look for those who are easy to steal from. To prevent your cargo from being targeted, you need to send a clear message that you are watching out for your cargo. You can do that by following these steps:
Perform background checks on all your drivers.
Since your drivers have direct access to the cargo they are hauling, you need to be sure you can trust them. The same goes for any of your employees who have access to your semi-trailers and their cargo. Having a comprehensive screening process not only helps you hire people you can trust, but it also offers reassurance to those who have a stake in your cargo. 
Keep your enclosed semi-trailers locked at all times.
Unless a dry van semi-trailer is actively being loaded, unloaded, or inspected, it needs to be locked using the highest quality locking devices possible. It is a huge mistake to assume you know when and where a thief might strike. Your drivers, and others responsible for handling your cargo, need to make it a habit of locking the semi-trailer every time they shut the door. 
Educate your drivers and others about theft methods.
Do your drivers and other employees know how thieves gain access to semi-trailers? The more they understand their methods, the better they can protect your cargo. Investigate the thieves' methods by talking to your peers and local law enforcement. They should have a good understanding of whether thieves in your area are focusing on certain techniques. Knowing this information will help you be proactive in protecting yourself against it. 
Use trailer tracking technology.
When it is obvious that you monitor the movement of your semi-trailer, thieves will be less interested in trying to steal your cargo. They would rather focus on loads that are basically "off the grid" when they are not on the road. 
If possible, chain and lock exposed loads. 
If you are transporting shipments on a flatbed trailer, then simply being strapped down may not keep thieves away. Adding additional chains and locks may make your cargo not worth their extra time and effort to try to steal. 
Be attentive when at rest stops and other parking areas during your travels. 
It doesn't take long for a thief to get in and out of a semi-trailer. If you think you do not need to lock your semi-trailer while you make a quick pit stop or have a fast bite to eat, think again. That decision could come back to haunt you. 
Plan your route to stay away from high crime areas if you can. 
If you know theft occurs at specific rest stops or businesses at a certain exit number, then plan your drive so you don't have to stop there. It is common knowledge that theft can happen anywhere, but any preventative action you can take to lower your risk of being targeted is beneficial. 
Limit your stops as much as possible.
Some thieves are desperate enough to follow semi-trailers and wait for their chance to strike. However, if you continue driving for hours before stopping you will most likely surpass their patience. 
Do not tell anyone about what is in your semi-trailer or where you are going. 
Even though you might share information with someone during one of your stops who does not care about your cargo, that doesn't mean someone eavesdropping nearby isn't interested. 
Protect Your Cargo No Matter What You're Transporting
It doesn't matter if you own a fleet of semi-trailers or rent one when needed, it is necessary to do everything you can to protect them. Protect the cargo like it was gold. If you need ideas on how to protect your cargo and semi-trailers, contact Trucker Search at (888) 254-3712. We understand the importance of protecting your cargo and want to help you get it to its destination safely.