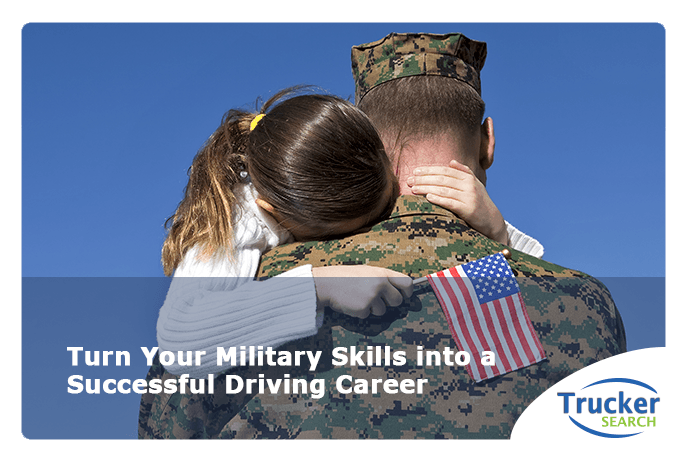 If you have driven trucks in the military, trucking companies are eager to hear from you.  And there's a good chance that the training and experience you earned there will allow you to get your CDL without attending driving school and fast track yourself into a new and rewarding career.  
Why Carriers Love to Hire Military Veterans
It's more than just patriotism and wanting to support American veterans that make carriers eager to hire military veterans to work for them.  Many of the qualities and skills learned in the military are the same ones that make a good truck driver.  Trucking companies have learned that military veterans are:
Dependable

Alert and aware

Have strong self-discipline

Work as a team

Have strong mental focus

May be used to being away from home for extended periods which can make it easier to adapt better to life on the road.
Why A Job Driving a Truck Is a Great Opportunity for Veterans
A job in the trucking industry allows veterans to transition to a civilian job without starting back at square one.  Many of the skills and disciplines learned while working for Uncle Sam transfer easily into a career driving a commercial truck.  Employers will look at your previous driving in the military as experience and will pay you accordingly, even if you just got your CDL.  
Veterans may also be eligible to skip the skills test and just take the written exam to get their CDL.  To take advantage of this, you must be active duty (or honorably discharged less than a year ago) with at least 2 years' experience operating a commercial motor vehicle as part of your job in the military.  Since 2014, all 50 states and D.C. allow the waiver.  More information on how to obtain the waiver can be found on FMCSA's website.    
Without having to go to driving school, veterans can have a quick transition into a new, good-paying career.  However, if you are a veteran but you don't qualify for the waiver, there are several ways to get help paying for driving school.  You can use your GI benefits to pay for it and the  Veterans Administration Apprenticeship Program and On-The-Job Training Programs offer help too.  There are also scholarships available and many truck driving schools offer military discounts and other aids for veterans.
Before the coronavirus pandemic, the trucking industry was experiencing a shortage of qualified and licensed drivers and as the economy begins to reopen and grow, the demand for experienced drivers will be back in high demand, ready for experienced military drivers to step in.      
If you're a military veteran looking to start a new career in the trucking industry, Trucker Search is a great place to start. You can post your resume or search our vast database of companies looking for drivers to join their teams.  Visit Trucker Search and begin your new career today.
Sources:  
https://www.fmcsa.dot.gov/registration/commercial-drivers-license/application-military-skills-test-waiver
https://www.va.gov/education/about-gi-bill-benefits/how-to-use-benefits/on-the-job-training-apprenticeships/