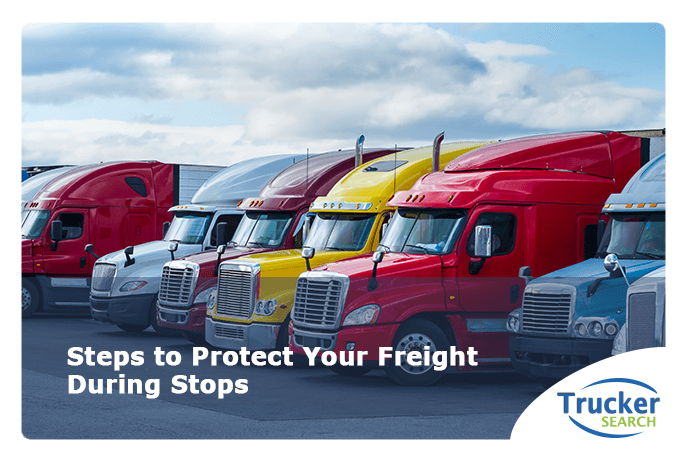 Stopping to rest and refresh is extremely important for the health and well-being of drivers, but unfortunately, freight theft is a problem that threatens the cargo of truck drivers all over the nation. Thieves are getting sneakier and smarter, but so are drivers, companies, and technology. Freight theft is expensive and time consuming to deal with, but it can be prevented by taking simple steps to ensure your cargo is secure and protected during stops.
How Does Freight Theft Happen?
Freight theft can happen in several ways, but most if not all of these, occur while the truck is not in motion. Freight theft can be planned or spontaneous and is possible anytime your truck is stopped, particularly when it is left unattended for any period of time.
Some thieves may attempt to follow your truck from the pick-up point to where you first stop, especially if you are carrying high-demand cargo. Freight theft may also happen when you leave your truck, even for just a few minutes, without supervision because thieves sometimes wait nearby high traffic areas for trucks to steal from.
Where Does Freight Theft Happen?
Freight theft happens most often at truck stops but can occur anytime a driver is is not moving. However, there are some locations that have notably high records of freight theft, there are maps available for these locations, but they are typically depicted as being near Southern California and Nevada, the Great Lake States, Eastern Texas, Southeastern States, and Northeastern Pennsylvania.
These spots have the most cases of cargo theft, but it can happen anywhere that your truck is left unattended. Many companies suggest that drivers don't stop for the first 200 miles of the journey to discourage anyone who decided to follow the trucks, especially in high-theft locations.
How to Keep Your Cargo Safe
Cargo thieves are getting more sophisticated, so it is more important than ever to keep your delivery locations to yourself and refrain from posting them or telling people about the route you are going to take. This simple measure can prevent thieves from targeting your truck.
Taking breaks is important, but it can provide thieves with an opportunity. However, there are many ways that you can reduce the danger associated with resting. One of the most important ways is knowing your route beforehand and avoiding high-risk locations. Another way to avoid freight theft is by using simple prevention methods of locks, seals, and alarms.
Staying with your truck while taking a break is one of the best ways to prevent cargo theft from happening, but if you are unable to stay with it, try to park in a place that is well-lit, another tip is to back the truck near obstacles that will make it hard to open the truck doors.
Defensive Trucking
If something goes wrong and you think there may be suspicious dealings involved in your transport, or if your freight gets stolen, it is important to report it to the authorities and contact the National Cargo Theft Task Force (NCTTF) which is a coalition of people from all different occupations with the sole goal of preventing cargo theft.
Another way to protect your cargo even if it is stolen is to use technology. There are many devices made to protect cargo, some of the most effective are GPS trackers which may assist you in retrieving some of your stolen freight, and maybe even catching the thieves!
Final Thoughts
Cargo theft is a costly crime that is becoming increasingly more sophisticated as time and technology progress, but it is a preventable crime in some cases, and drivers are the most important people in this prevention cycle. Make sure to lock your truck, set an alarm, and stay with your freight as much as possible to better prevent theft on your next shipping route, and call the NCTTF if anything seems amiss. Together, we can stop Freight Theft.