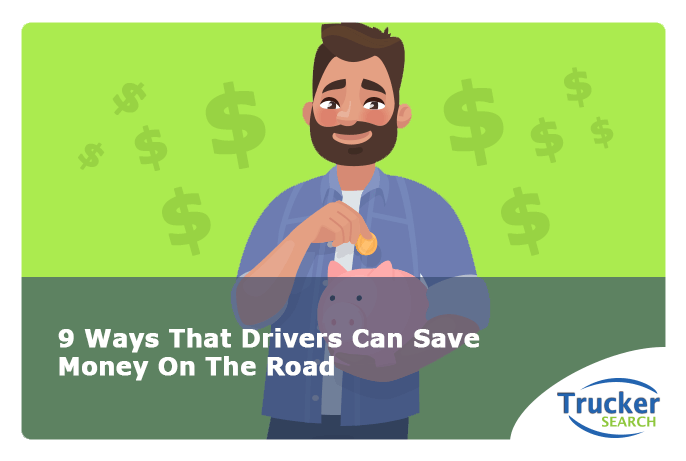 It doesn't matter if the economy is good or bad, it's important to spend your money wisely, no matter what your profession.  Most people have jobs that take them no further from home than a short commute.  They don't eat every meal away from home.  For truck drivers who spend time out on the road and away from home, saving money can be particularly challenging.  At home, it's easy to shop around for deals on food and necessities, or just stay in and not spend any money.  Truck drivers are often stuck with whatever buying options are available along the highway which are usually much more expensive.  However, with a little planning, drivers can make wise choices that will save them money while on the road, and maybe a little time too.
Make a budget and stick to it.

  Nobody likes budgeting but it works.  Be sure to be realistic about your expenses and include a little wiggle room for entertainment.  If

The Shining

taught us anything, it's that "All work and no play makes Jack a dull boy."

Avoid breakdowns.

  By keeping up with regular maintenance on your truck, small problems may be discovered before they become big problems.  Maintenance is significantly cheaper than a breakdown.

Limit your spending on food.

  Gas stations and truck stops have a huge mark-up on food.  Instead, stock up on snacks and food from the grocery store.  This includes drinks as well?a 6-pack or larger of a particular drink at the grocery store is often approximately the cost of a single unit at a gas station.  Invest in a mini-fridge and stove for your truck.  They'll quickly pay for themselves and you'll be able to choose healthier options.  

Follow the rules.

  Traffic violations like speeding tickets can be expensive and add up and they're completely avoidable.  

Use free wifi whenever possible.

  You may be able to ditch the high cost of your unlimited data plan or avoid overage charges.  Keep track of free wifi along your route so you know where it is next time.

Pay your bills on time.

  If you're on the road for extended periods, be sure that your bills are paid before you go to avoid late payments, i.e. hefty late fees.  You could also download your bank's app (they all have them) on your phone or tablet and do your banking on the road.  Late payments not only cost you money right away, but they cost you in the long run by affecting your credit score and resulting in higher interest rates the next time you apply for credit.

Make healthy choices.

  By regularly exercising, quitting smoking, and eating a healthy diet, you can  avoid some future medical problems.  Driving a truck, sitting behind the wheel all day and eating fast food makes staying in shape a challenge for drivers but with some dedication and determination, it can be done.

Use cruise control whenever possible.

  Manually adjusting your speed constantly uses more fuel than letting your truck do it.  Keeping it at

60MPH

is most efficient and by keeping your speed under control you can avoid those expensive speeding tickets too.

Pay your insurance all at once.

  Most insurance companies offer a discount for paying upfront instead of monthly or quarterly.  For big rigs, this can mean significant savings.  
Another way to help your bottom line is to find the right company to work for that's going to pay you what you're worth.  Trucker Search can help. On Trucker Search's website, you can post your résumé as well as search the comprehensive database of companies looking for drivers.  It's a great resource for any driver looking for a great place to work.
Source:  https://ezfreightfactoring.com/blog/money-saving-tips-for-truckers