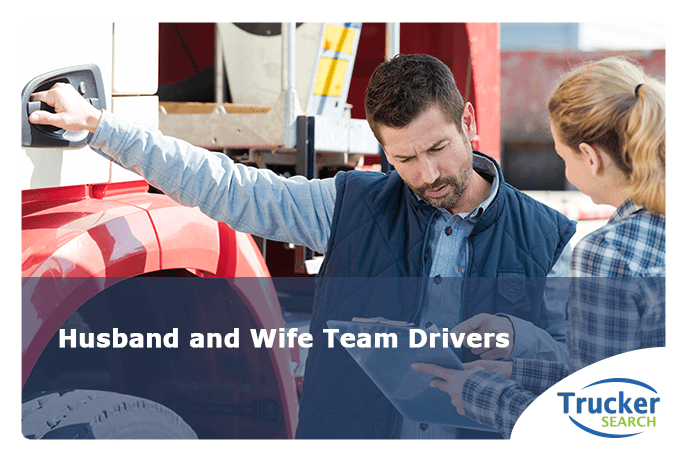 Life on the road can be tough.  Sure, there's the freedom of the open road, independence, and good pay but there is also traffic, bad food, and the monotony of the highway.  Arguably, the hardest part of the life of a truck driver is the loneliness. If you're a long haul driver, the long days and even longer nights can take a  toll on your mental wellbeing.   
To combat the loneliness that  comes with the solitude on the open road, many drivers bring their dog, children, and even spouses so they have company.  However, more and more frequently, both spouses are earning their CDL and are driving long trucking routes together as a team.  
Advantages of Driving with Your Spouse
 There's the obvious advantage of driving with a spouse:  money. Hours of Service restrictions mean mandatory rest periods but if there are two eligible drivers, one can rest while the other one drives.  It reduces living expenses as you may not need a house as much as you merely need a home base.  
The limited stopping time makes husband and wife teams particularly attractive to carriers who can cut delivery times sometimes by as much as half which makes them willing to pay the premium for husband and wife driving teams.  Husband and wife teams are in high demand because they can more easily handle the long hours and make deliveries faster.  
Aside from staving off loneliness, having your partner on the road with you can keep you more active.  You may be more inclined to walk or do other activities if you have your spouse with you and making time for some sightseeing and fun while you're out there can add happiness and relieve stress.
Driving with your spouse is better than team driving with someone you are not married to.  In other teams, there may be conflicts in the sleeping situation or choice in music or driving style.  Usually, spouses are more on the same page than non-related driving teams.   
Having a partner with you can make life on the road easier and even safer.  Your spouse can help you navigate cities, assist with keeping records, communicate with dispatchers while you keep your eyes on the road and hands on the wheel.  
Communication is the key to the longevity of any marriage, and communication can be significantly easier when your spouse is in the seat next to you!  Just being away from one another for extended periods can put a strain on even the closest relationships. Driving together as a team may help you and your spouse to remain close.    
 Disadvantages of Driving with Your Spouse
Not all relationships can survive life on the road.  Just because you love your spouse and you're a great team at home, it doesn't mean that you'll make a good team on the road.  Spending all your time with the same person all the time may work for some but may cause arguments and fractures in the relationship for others.  Keep in mind that if one sleeps while the other drives, it could seem like you're not spending much time together at all. This could be a good or bad thing. 
While having one spouse on the road as the other stays at home to raise children is difficult, having both on the road makes that impossible.  For husband and wife teams with grown children, team driving may be a welcome change but younger teams may have to put off the dream of a having family if that's something they want, while they're driving together.
For the right couple, team driving can be a lucrative and enjoyable adventure that allows you to see the country together.  Trucker Search is the only tool you need if you're a driving team looking to work for a great company. On Trucker Search's website, you and your spouse can post your résumés and search the comprehensive database of driving jobs.  Team drivers are in high demand and Trucker Search is a great resource for any team looking for a great place to work.
Sources:
https://www.fmcsa.dot.gov/regulations/hours-service/summary-hours-service-regulations