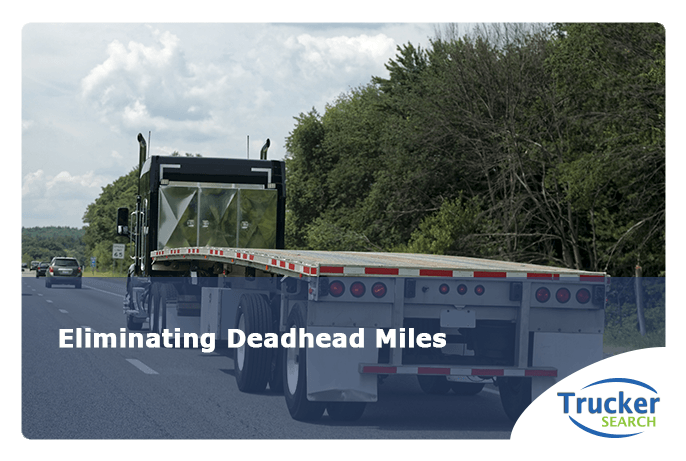 Contrary to popular belief, deadhead miles are not when people follow the Grateful Dead around the country.  Deadhead miles, or deadhead trucking, is when a truck is empty on the road after delivering a load. When a truck is traveling without a load, someone is losing money and wasting fuel.
Deadhead miles can be a huge expense for both carriers and owner/operators.  It's difficult to find accurate statistics on exactly how many deadhead miles trucks are driving because they are generally underreported, but any empty truck is a waste.
Deadheading is a Waste of Money
Every hour that a driver is on the clock driving an empty truck, it eats into profits especially for carriers who pay their employees by the hour.  Some companies that pay per mile will pay for deadhead miles but it's usually a fraction of the full load pay.  
Deadheading is Bad for the Environment
Driving empty trucks eats up fuel and pumps carbon into the atmosphere for no reason.  It's estimated that the amount of carbon that is emitted into the atmosphere from empty trucks is anywhere from 59,000,000-97,000,000 tons a year.  If half the number of trucks had a return load, that number could be as low as 29,500,000-48,500,000 tons.  
Deadheading is Dangerous
Trailers that are empty can be more dangerous because they're more difficult to control and more prone to rollover accidents.  High winds can cause a trailer to sway without the added freight weight.
Reducing Deadhead Miles
Carriers and drivers can make their operations more efficient by tackling deadheading and the only way is to fill the trucks.
Fill trucks with return material.
When a company sends its products out on pallets, those pallets have to be shipped back to the company at some point.  Pallet pooling services handle the logistics of them, renting reusable pallets, and arranging trucks to reduce their deadhead miles.  Of course, the pay isn't the same as carrying a full load but it can help offset some deadhead miles fuel costs and maybe even turn a profit.  Some carriers make money on deadhead miles by taking bales of recyclable cardboard to where they need to go.    
Find return loads for trucks. 
The best and rather obvious solution to deal with deadhead miles is to find loads for your return trips.  Load boards like Direct Freight's make this easier than ever before. Simply use the load board to book a load from your original delivery destination.  
If you're a driver looking for a great company to work for, Trucker Search is the only tool you'll need.  On Trucker Search's website, you can post your résumé as well as search the comprehensive database of companies looking for drivers.  It's a great resource for any driver looking for a great place to work.
Sources:
https://medium.com/@mbarlin_42335/potential-carbon-savings-of-trucking-deadhead-miles-eb09e230123b
https://www.supplychaindigital.com/warehousing/pallet-pooling-makes-warehousing-sense