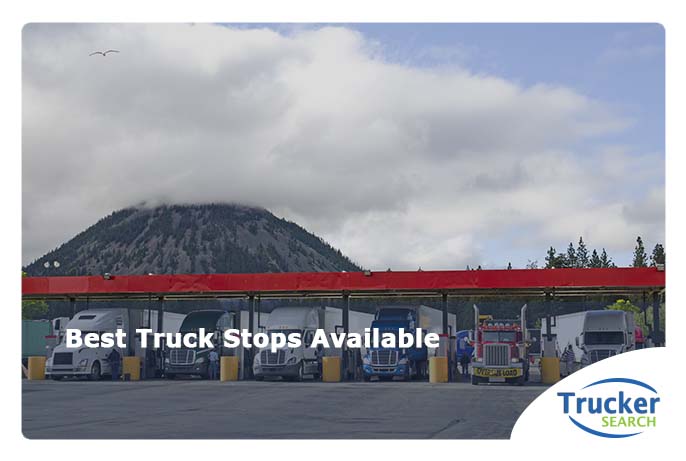 As a truck driver out on the road, there is one thing you need to help keep you going, and that's a good truck stop. It is important for truck drivers to find a truck stop they can depend on and that provides amenities that help them with their needs. Sometimes it can be hard to find the best truck stop while on the road. When choosing a truck stop, you need to pick one based upon the amenities they provide, such as laundry services, showers, spacious parking, restaurant options, fuel prices, and how well-maintained it is. The following are a few of the best truck stops available to you while on the road. 
Love's Travel Stops & Country Stores
Love's is the nation's number one travel stop network and has more than 540 locations in 41 states. You can count on Love's to have spacious parking and friendly staff members, as well as light mechanical maintenance. Their repair trucks are furnished with state-of-the-art equipment and have a full range of roadside tools to fix your truck, even if you are in the middle of nowhere. Another bonus is they are available 24 hours a day, 365 days a year! Love's goes out of its way to ensure truck drivers and travelers have a clean, safe place to stop during their travels. 
As a part of Love's truck care, they offer more than 400 total truck care locations nationwide. They take pride in making sure every truck driver's needs are met, no matter where they are. By partnering with Speedco, Love's can offer more truck care services than ever before, including:
Tires

Roadside assistance

Oil change and PM services

Light mechanical work

Retread
Pilot Flying J
Pilot Flying J has been providing services to travelers for 60 years. It is their mission to make sure drivers' experience on the road is the best it can be. Pilot Flying J has a plethora of amenities that every truck driver can benefit from, including the following:
CAT Scales:

Provides a reliable, accurate, and certified weight and can be found at most locations.

Public Laundry:

Located at most locations with fast and efficient laundry equipment

ATM:

Available 24 hours a day at every location

Idle Air:

Allows drivers to turn off their diesel engines and APUs yet still enjoy heating, cooling, standard electric inside and outside their cabs, Satellite TV, Internet, and other home comforts. Idle Air service allows drivers to save money and get better sleep without the noise, vibrations, and exhaust fumes from idling. For a list of locations, visit www.idleair.com.

Showers and Restrooms:

Recently upgraded shower facilities and bathrooms gives guests a relaxing experience with a quick turnover, so the wait for a freshly cleaned shower is limited. 

Game Rooms

: Games rooms allow drivers entertainment and relaxation, something that is needed after long hours on the road. They are located at most locations and include the latest games. 
Need another reason Pilot Flying J is highly rated? They now offer parking reservations through Prime Parking. With Prime Parking, you can pay with a tap, park with points earned, have a guaranteed spot, park with ease, modify your reservation, and have easy pay options. 
Sapp Brothers
Sapp Brothers has been around for 50 years and has 17 travel centers across the country, mostly located in the Midwest and West. They provide 24-hour roadside assistance and have a full-service tire center. Some of the items they can assist you with are:
Full mechanical work

Jumpstart

Tires

Lights

Fuel delivery

Air Leaks

Brakes

Belts

Hoses

Electrical 
Sapp Brothers also pride themselves on having the cleanest restrooms and showers on the road. They have sinks that deliver hot water, towel dispensers and heaters that actually dry your hands, and some locations now offer bidets and heated toilet seats that have gotten rave reviews. Their showers give drivers a hotel-like experience and offer shower programs where drivers can earn shower credits!
Drivers can also find CAT Scales at 15 of their locations and their scales are guaranteed to be accurate. If it turns out the scales are wrong, SAPP Brothers will reimburse you for any fines you might accrue. Knowing that time is of the essence, Sapp Brothers strives to make truck drivers' fueling experience efficient, so they can get back on the road or have time to rest. To do so, they provide bulk DEF at all their pumps, along with an automatic pump activation with the swipe of an approved fleet card. 
TA Travel Centers/Petro Truck Stops
TA Travel Centers and Petro Truck Stops have been in business for more than 40 years. They have been voted the best, most trusted brand in the truck stop industry year-in and year-out. There are more than 250 locations across the United States that are conveniently located off major highway interstate exits. They offer multiple amenities such as:
24-hour full-service travel centers

Truck repair and maintenance services

Multiple food options including fast food, grab n' go, and full-service restaurants

Hospital grade, clean showers

One-stop shopping to get groceries, snacks, electronics, maintenance supplies, clothing, and gifts

Preferred and reserved parking

Wi-Fi

CAT Scales

Laundry services with new machines, folding tables, and hanging racks, with multiple payment options
Every truck driver knows how hard it is to stay fit and healthy on the road. TA and Petro offer a StayFIT program that provides easy health and wellness options while giving drivers a place to stop for everything they need. There are onsite medical clinics that provide chiropractic services and DOT physicals. Exercise rooms, outdoor fitness stations, and activity centers are also available. 
When truck drivers stop for a bite to eat or to refuel, they need to feel at home and welcomed. The truck stops discussed above are only a few of the best out there that strive to make every guest comfortable and their time on the road worthwhile. Whether it is one of these you choose, or another one that has been recommended, know that the owners of these truck stops advocate for you and appreciate your hard work.