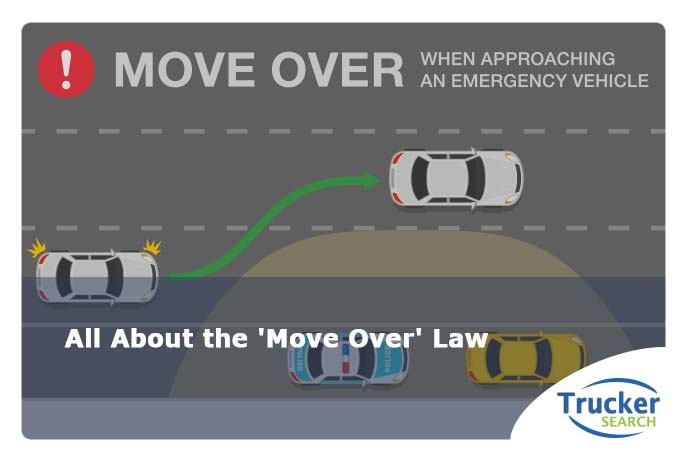 Maryland's 'Move Over' law has caused some buzz in the news as it is being expanded to protect more drivers from the dangers of being on the side of the road. Move over laws are important to take note of because it makes what is often a common courtesy into law. Changing lanes to avoid stranded or working vehicles can save lives. That is what the Maryland law aims to do by increasing the scope of protected vehicles from tow trucks, service vehicles, and emergency vehicles to any vehicle with their flashers on. Sometimes legal talk can be confusing, but in this post, we'll talk about the 'Move Over' law and how you can avoid fines and keep others safe!
Moving on Over
All 50 states in the United States have move over laws that are enforced, though the exact vehicles protected varies. For Maryland, Governor Larry Hogan just signed a bill that makes the move over law applicable to any "disabled vehicle displaying hazard warning lights, road flares, or other caution signals or warning lights." While it is called the 'Move Over' law, it does not mean that you must always move over as it is sometimes impossible. It does mean that you must slow down to a safe speed and possibly move over if you can, giving as much leeway to the disabled vehicles, emergency/service vehicles, or tow trucks.
What the Law Means for Drivers
Trucks are obviously much larger than civilian vehicles, which often makes fully moving over a challenge and lawmakers most certainly understand that. If you can't move over, slow down as much as necessary and give room to the vehicle. Failing to move over can result in a fine of $500 in Maryland. All the other states enforce this law as well with varying fine amounts. 
The only change for drivers to watch out for is vehicles with their hazards or other warning signals and slowing down or moving over will suffice for abiding by the law. This is a law that makes sense and that everyone can get behind, because it only takes a few seconds to follow it and it will save countless lives. 
A Safer Road for All
Laws like the 'Move Over' law are instilled to keep both commercial, emergency, service, civilian vehicles, and their drivers safe from the hazards of the roads. Taking just a second to move over or slow down, giving space and ample warning to the people in the stalled vehicle can mean the difference between life and death. Taking the initiative to make a safer road space for all will decrease travel times and increase transport efficiency by reducing the slowdowns caused by wrecks.
Final Thoughts
Maryland has decided that the 'Move Over' law applies to all vehicles, which will help protect everyone from service workers to emergency responders and people with car troubles. This is a great step for saving lives! As always, staying alert and watching for stalled vehicles, or other traffic hazards, will make the roads more efficient and accessible!