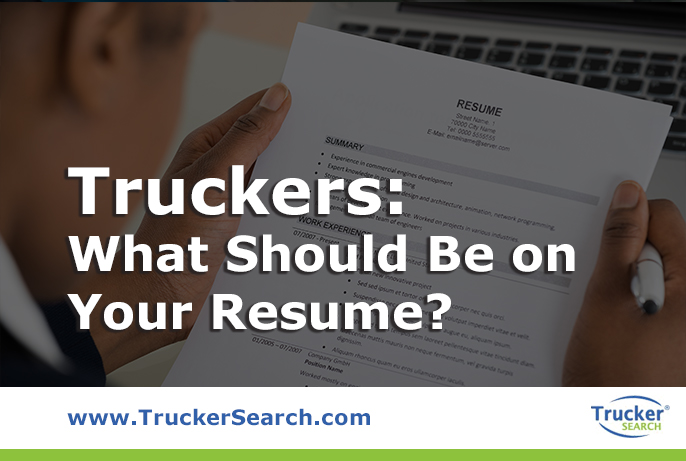 With the current shortage of drivers in the trucking industry, you may be thinking that you can merely snap your fingers and you've got yourself a gig.  Perhaps. But is the job you really want? Does it have the hours you want? Does it have the pay you want?
The truth is, it may not be that difficult to land a job as a trucker right now but these are typically the lower-paying jobs that few really want.  The jobs that have high pay and good benefits are still highly competitive and if you want one of those jobs, it'll take some work that includes a good resume.
A hiring manager could post a job and receive 2 applicants or 200.  You don't know. Assume there are 200, and ask yourself this question:  
Will my resume rise to the top of the pile?   
Style
They say that you can't judge a book by its cover and while this is true, it's often the cover that catches our eye and prompts us to pick up the book and read the back to see what it's about.  This is what the style of your resume is for. A plain black and white list of your accomplishments, no matter how outstanding you may think they are, will be lost in a sea of other plain, black and white lists of accomplishments.  
Use color but very little and don't use anything too bright.  Dark blue, hunter green, or grey can add a professional look but should be used sparingly, such as a line separating your identifying information from the rest of the resume or an outside border.  It's important not to distract from the information on the resume. Color should only be used on paper resumes, however. When applying on online sites such as TruckerSearch, resumes should be black and white only.  A color that you choose on your computer may not look the same at the other end for the hiring manager so it's best to not risk it looking bad.
Use legible fonts.  Again, if you're using unusual fonts, the hiring manager may not receive them the same way so you should stick with popular fonts such as Times New Roman, Arial, or Verdana.  Keep the size at 12 points but you can make headings 14 so they stand out a little or make them bold, italicized, or capitals.
Make sure there is some white space.  If everything is crammed together, it will be difficult to read.  At the same time, double-spacing will make it seem empty and resumes should be kept to one page, if possible.  
Opening
After your contact information, include a brief 2 or 3 sentence summary of who you are and what you can do for the business at which you're applying.  These sentences shouldn't be too detailed, simply a couple of your main selling points.
Example:  
Truck driver with over 15 years of experience making on-time deliveries operating reefers.  Proficient in light truck repairs and maintenance and possesses CDL as well as HAZMAT certification.  
Of course, all of these things should be highlighted within the body of the resume as well but the short opening paragraph should entice the hiring manager to read further.  
Body
Here's where you put the meat of your experience and qualifications.  List your experience in reverse-chronological order as your latest experience is usually the most relevant.  Read the description of the job you're applying for and make sure that any of those experiences or qualifications that you possess are emphasized in the resume.  You want them to know that you're the applicant they've been looking for.
Be specific as much as possible; don't speak in generalities.  A hiring manager wants to know what you can specifically do, not what you can generally do.  Highlight your strengths.  Ask yourself how you will benefit the company.  It's not just about your experience and qualifications (although be sure to include all of those!), it's also about what they can expect from you.  On time. Safe driving record. Ability to lift cargo. Good customer service skills. Math skills. Have you trained anyone? What types of vehicles can you drive?  They need to know you're everything they're looking for and more.
After your experience and qualifications, include an "activities" or "interest" section.  You may wonder why this would have anything to do with a job driving a truck but it does. If you do any kind of sports or weightlifting or running, it will show them that you're fit.  Long hours spent in a truck can cause health issues and they want someone who isn't going to be out sick all of the time. If you've done a martial art in the past, include that. It shows that you are disciplined.  Include any volunteer work you do. It shows you care about your community. Be selective, however. The activities section should be brief.
Action Words
Some of the action words that you should include on your resume if they apply are:

| Reliable | Repair | Unload Freight |
| --- | --- | --- |
| Dependable | On-time | Clean Driving Record |
| Clean | Pick up | HAZMAT-certified |
| Conduct | Lift | Security |
| Deliver | Operate | Checklist |
| Load | Perform | Delivery Schedules |
| Maintain | CDLA | Operator |
| Transport | Record-keeping | Customer Service |
| Verify | Safety | Vehicle Maintenance |

Your resume should be an overview of who you are and what you bring to the table.  It should be thorough yet to the point.
At TruckerSearch, we know there are many great truck drivers out there looking for great jobs.  We make it easy to post a resume for top companies to see. Or search our database for jobs and email them your resume directly.  It couldn't be easier. So polish up that resume and go to TruckerSearch today!