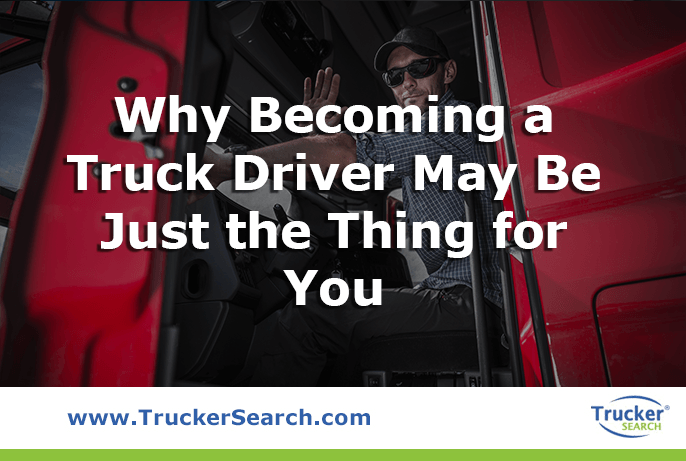 Maybe college wasn't for you.  Perhaps the thought of going into serious debt for the foreseeable future turned you off to it or maybe it was four more years of school that didn't appeal to you.  What you're left with are low-paying, dead-end jobs that don't pay enough to support yourself, let alone even think about supporting a family.
There is another option.  Becoming a truck driver. You, behind the wheel, wind in your hair, no boss standing over you asking you if the fries are done.  
But driving a truck doesn't pay much, does it?
According to the Wall Street Journal, some private fleet drivers earned as much as $86,000 in 2017, up from $73,000 in 2013.  Currently, there is a shortage of drivers and many Baby Boomers set to retire on the horizon which is driving up the salaries of CDL-trained drivers.  As further incentive, some companies are offering significant bonuses?some in the tens of thousands range?for signing up with them, as well as excellent benefits packages.
I need a special license, don't I?
Yes.  Typically, you need a CDL (Commercial Driver's License) which can be obtained in a couple of months or less and it usually costs between $3,000 and $7,000 depending on the school.  Federal aid may help pay for the class if it meets their requirements. The good news is that some trucking companies are offering to pay the cost of your CDL training if you agree to work for them when you graduate.
Isn't it an unhealthy lifestyle?
It doesn't have to be.  Driving is a sedentary job, as is sitting behind a desk staring at a computer monitor all day.  Trucking companies realize this and are encouraging their employees to exercise more by installing walking paths at their place of business or starting basketball or softball leagues.  Many offer wellness programs as part of their benefits packages that include discounted gym memberships.
Truck stops are beginning to catch on as well by offering healthier food choices so you're not stuck with unhealthy fast food.  To take things a step further, Carnegie Mellon University has been designing trucks to have all of the comforts of home including small kitchenettes so truckers can cook healthier meals for themselves while they're out on the road.
Won't I be away from home for weeks on end?
Trucking companies are becoming more sensitive to the fact that drivers want more time at home so they can have a normal social life or start a family.  Many are offering short hauls that run regionally. Add to that the changes in how consumers buy things and how quickly they expect to get their purchases, many retailers are building more distribution centers to get their products to their customers more efficiently, which means shorter runs for truckers.
It's lonely on the road, isn't it?
Long hauls can be lonely.  But many trucking companies are open to truckers bringing a pet with them on the road.  "Bring Your Dog to Work Day" can be every day! For long trips, technology has eased loneliness by allowing them to Skype with their family back home and bring along comforts like Netflix to pass the time.  Truckers are friendly people and participating in trucker forums and other social media may allow you to meet some friends on the road.
Don't I have to be 21?
Not necessarily.  Currently, if you are under 21, you can get your CDL but you cannot drive across state lines.  You may be able to find a company that can oblige until you're 21.
On March 21st, a bill was introduced in the House of Representatives that would abolish the under 21 rule.  The bill requires that drivers between the ages of 18 and 21 log 400 hours of on-duty time and 240 hours of driving time with an experienced driver in the cab.  Many feel this bill is just a common sense way to solve the driver shortage. Passage of the bill would be likely to relieve the shortage and also provide a solution for people who are looking to begin a good-paying career right after high school.  
Won't trucks be automated in the future?
The keyword there is future.  There are many safety and legal concerns with driverless trucks, and even if these can be overcome, it doesn't mean that they'll be completely autonomous.  Truckers may need to adapt to a different definition of what it means to drive a truck but this isn't expected for many years down the road.
No one claims that being a truck driver is an easy job but with all of the added pay and benefits currently being offered, it can be a lucrative one.  And with TruckerSearch.com, you can post your resume for potential employers or actively search our vast database of available jobs. We make it quick and easy to find a good, high-paying job.  Kick off your career in the trucking industry by going to TruckerSearch.com or call (888)254-3712 and answer the call of the open road!