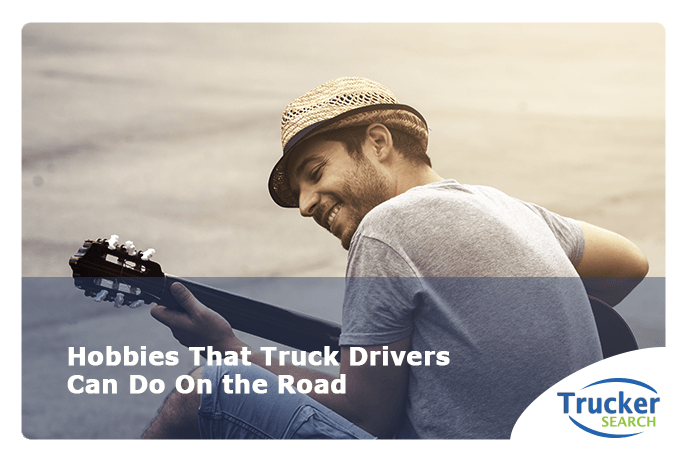 Driving a truck can be fun, exciting, and a great career.  It can also be a bit dull.  Those long roads that bring such beautiful scenery over every crest, can also bring unrelenting boredom with each stretch.  And it's not just the hours spent driving.  If you're living in your truck for days or weeks at a time, not having something to help occupy your mind and hands can make the hours seem like years.  Having a hobby or interest also relieves stress and anxiety and helps you take a break from the real world.
Photography
Photography is the perfect hobby for someone who spends most of their time out on the road seeing so much of the country.  Good quality digital cameras aren't as expensive as they used to be and recent cell phone models have excellent cameras built in.  With a laptop and inexpensive software, you can edit and share your art with your family at home.  
Learning an Instrument
If you love music and you've always wanted to learn an instrument, the cab of your truck is the perfect place (not while you're driving, of course).  Guitar, keyboard, trumpet, saxophone, and many more can be learned in the comfort of your cab during your free time.  Buy a book or take lessons online, who knows, maybe you'll find some other musicians to jam with on the road.
Writing
Whether writing in a journal or creating a fictional story, writing is a great way to express yourself thoughtfully.  Some people find writing to be a therapeutic way of working through feelings, or maybe you simply have dreams of being published one day.  Maybe now is the time to write that Great American Novel or a blog about your life on the road.  
Learn a Language
There's an abundance of apps, audio books, or videos that can teach you a new language.  The great thing about learning a language with an audiobook is that you can do it on the clock while you're driving.  Are you ready to learn a new language?  Oui!
Podcasts
Listening to podcasts while you're driving can help pass the time and you can learn something new.  Whatever your interests, someone makes a podcast about it!  The same is true for audio books.  You can learn something new or lose yourself in some good fiction.
Exercise
Getting exercise on the road is essential to staying in shape when you're sitting for hours on end.  During breaks, go for a run or a brisk walk.  Bring some small weights to keep in your cab.   Making exercise your new hobby has endless benefits!
Drawing
Life on the road gives the budding artist an abundance of subjects to sketch.  If you're not naturally artistic, YouTube has lots of videos to show you how to draw.
No matter what you choose, starting a new hobby will help you push out the boredom of life on the road.  
If you're a driver looking for a great place to work, look no further than Trucker Search.   On Trucker Search's website, you can post your résumé as well as search the comprehensive database of companies looking for drivers.  It's a great resource for any driver looking for a great place to work.
Source:  https://www.verywellmind.com/the-importance-of-hobbies-for-stress-relief-3144574