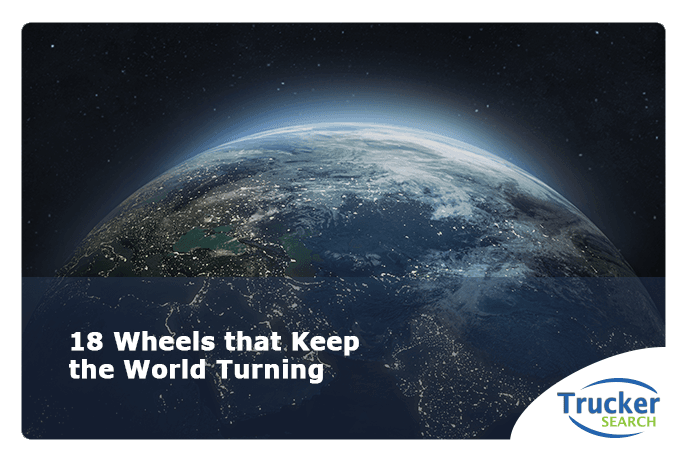 With over 3.5 million drivers on the road, as of 2019 (according to census.gov), the American Trucking Industry is a huge community represented by diverse people from across the nation and the globe! People from all walks of life have become a part of the transportation industry, making this a unifying career field. Drivers across the nation work hard every day to ensure that goods are transported to their destinations safely and timely. This is truly what keeps the American economy going.
The Big Engine That Could
Trucks are big, not only in size and mass, but in economic impact as well. Oftentimes trucks carry thousands, if not hundreds of thousands, of dollars worth of goods. This much value in a single route is a big responsibility, but every day there are drivers across the nation making this transport possible. This requires honesty, integrity, and a dedication to one's career. Drivers have a truly inspiring work ethic.
 Diesel engines may not always be the most efficient, sometimes they break down, but most drivers know how to address any issues and resolve them as quickly and safely as possible.. In the industry, it is never really a case of whether the truck is up for the job or not, but rather the driver because the driver is the most important player in the system. Without dedicated drivers, trade would be at a standstill.
Transportation Nation
The American economy relies on trade across the nation. America is huge, spanning 2,800 miles from coast to coast according to mapsofworld.com. When time sensitive deliveries are in order (especially with produce and other food items), there is always a rush to make sure none of the goods spoil. So, how do goods made on the West Coast arrive so quickly on the East coast and vice versa? Drivers make it possible through taking on loads and tirelessly making journeys to get the goods to their destinations on time! 
A Valiant Effort
Drivers face many challenges daily: hazards of the road, health issues, and difficulties in transport all make it hard on drivers to do their best work, but even then, they do an amazing job of keeping America running. Drivers may see many dangers from traffic incidents, slick roads, high winds, drunk drivers, cargo thieves, and people with malicious intent. They may also suffer through negative health conditions and stress associated with the career..  Drivers are met with adversity nearly every day of their career., Instead of being afraid and refusing to act, they meet these challenges head on and continue making it possible for people across the nation to acquire what they need, shop at their favorite stores, and receive important packages on time.
Thank You Drivers!
Drivers are some of America's most important citizens, and while they sometimes go underrecognized, they deserve our thanks for the great work they do. Without the 3.5 million drivers in the United States, the nation would be brought to its knees. So today, thank a driver, and if you drive trucks or have ever driven, thank you for your service. You are truly a special person for making the sacrifice to keep America going strong!