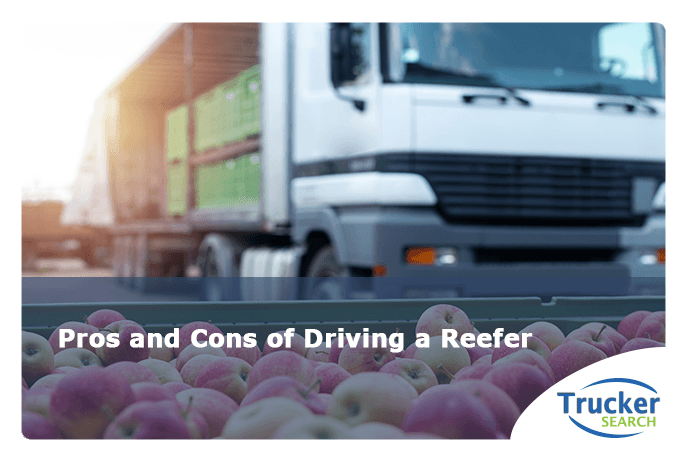 Driving a refrigerated truck (reefer) is one of the most fundamental jobs there is:  bringing fresh food from the farm (distributors) to the people (stores). Reefers are the reason why people from Maine can have ripe avocados, people from Utah can have fresh lobster, and a small milk farmer can be distributed to a large chain of grocery stores.  Reefers keep food fresh and safe as it makes its way across town or across the country.
There are both pros and cons with most things in life, and driving a reefer is no different.  Many truck drivers who want to make themselves more versatile and marketable will get the training and expertise to drive different types of loads that require more knowledge.  Whether it's hazardous materials or special equipment like a dump truck, having these added skills can put a driver above the rest of the pack.
Because refrigerated cargo is perishable and must be kept at a consistent, specific temperature, extra training is needed.  If temperature requirements are not strictly followed, the cargo is at risk of being spoiled and therefore a total loss, or worse, the cargo could become a public health hazard.
Pros of Driving a Reefer
Some dry loads are able to be hauled in the reefer which doubles possibilities for filling deadhead loads.

Typically, reefer drivers earn more money.

Fresh food is always in demand so there's a consistent demand for reefer drivers, no matter how well the economy is doing.

Long haul drives are common which usually means more money.

Lumpers or people who unload trucks often will unload your cargo for you.  

If you do have to unload your cargo, a cool, refrigerated trailer is nicer than tractor trailers that are sweltering in the summer heat.

Most grocery stores and grocery chains have dedicated loading docks so they're usually easy to maneuver into.
Cons
Reefers often need to be early-morning deliveries so there can be a lot of night driving.

The continuous noise from the refrigeration system can be difficult to tolerate for the driver as well as any trucks they park near.  The refrigeration units have to run constantly, including at night.

Reefers need to be cleaned out well after each haul.

Because there are two tanks and the refrigeration unit runs constantly, they use more fuel.

Long hauls are common so driving a reefer may not be the best option for drivers with families or who are looking for more regular hours.

Reefer drivers are responsible for controlling the cooling equipment.

Breakdowns could lead to freight spoilage.

Reefer repairs are more expensive than other vehicles.  
Driving a reefer isn't for everyone.  Due to the importance of protecting the freight by strictly controlling the temperature and keeping the trailer interior  washed and clean, there is more work that goes along with higher pay. However, the added responsibility is the reason why many drivers choose to drive a reefer.  Add to that less competition for jobs and work stability even in the worst of economic times, driving a reefer can be a rewarding and lucrative challenge.
No matter what kind of truck you drive, Trucker Search can help you find trucking companies that are looking for you.  Go to TruckerSearch.com today and post your resume or search the extensive database of companies who need drivers like you.