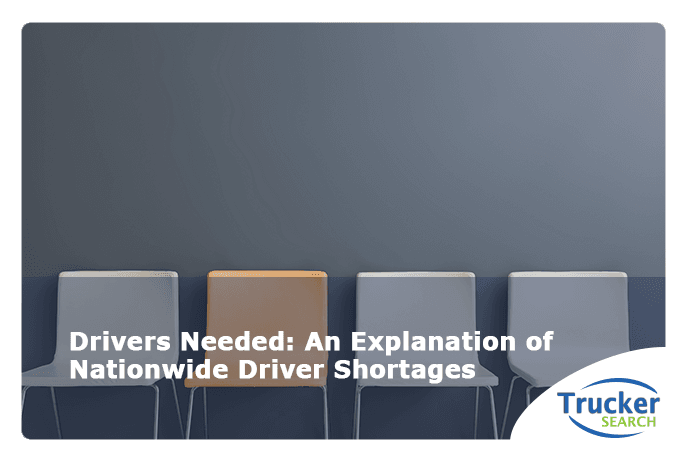 You see it everywhere, signs saying, "job openings," "we're hiring," and "come work here". This is especially true for the trucking industry! There is a well-documented nationwide driver shortage, and this is posing issues for timely transport. Many factors went into creating this issue and it is not something that can be solved rapidly. But, with hard work and dedication transport will be on a roll again shortly!
Job Openings
There are job openings across the country as businesses are recovering from the impact of the Covid-19 pandemic. While having job openings is a sign of an economic boom, the abundance of need for people willing to work can be a bit concerning. However, this is a great time to sign on for new jobs as competitive wages are being offered by many companies, including those in the trucking industry.
Why Drivers Quit
Drivers represent an aging part of the American population. Many are nearing the age of retirement, but some drivers are also quitting earlier than retirement age because they are dissatisfied with their company. This can be due to many factors, from a lack of growth opportunities to dishonest and irresponsible companies. While most driving companies strive to do their best to follow the rules of the road and ensure their employees are satisfied, the American workforce loses thousands of drivers a year because they feel stuck or morally unable to work for a given company.
High Demand
Drivers are in high demand everywhere. It is not all because of Covid, although recently there has been a spike in job openings due to the pandemic. Another reason for the need for drivers is that many drivers are aging out of the industry and retiring. We are thankful for their service, but it leaves one asking, "who's going to fill their shoes?". Right now there are not many young people entering the field, but there isn't much information out there encouraging them to investigate the career, and in many companies, there is no room for growth.
To create more interest in the industry, companies need to put information out to younger people and offer pathways of growth so that employees don't feel stuck and get burnt out. It must also be noted that drivers want to work for honest companies who aspire to follow the rules and regulations of the road. In the coming years it will be important to broadcast that driving is an incredibly valuable career to the American economy and inform potential future drivers that it can be a very fulfilling career for people who are prepared for the challenges of the job.
Final Thoughts
With the recent pandemic mostly behind us, and the huge need for drivers, there is still a lot of ground that we must regain. From educating young people about driving and the ins and outs of the career to businesses practicing ethical employment strategies and providing room for growth, the American Trucking Industry will be back up and running better than ever before! With hard work and dedication by drivers and their companies, America will be brought back to and go beyond its pre-covid transportation status.