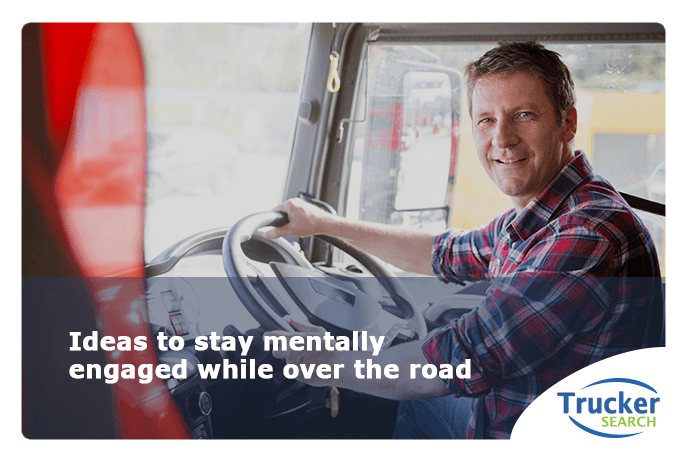 You're probably always looking sharp while on the road, but can you say the same about your mind? Truck driving is a very fulfilling career, but it is not for everyone. With long hours of sitting, driving, and staying on high alert to ensure the safety of civilians and cargo, there are plenty of stressors and long hours that need to be effectively managed to pursue a happy and healthy career. Keeping your mind sharp and your brain engaged while on the road can be a lifesaver and it will certainly keep you happier in your chosen career!
Long Days, Long Nights
Driving is a career filled with long hours at all times of the day. Depending on the type of driving you do, the miles you cover may be locally oriented or nationwide. Each type requires a lot of sitting down, buckling in, and preparing yourself for the long haul. The first few hours of driving may go by swimmingly, you're paying attention to scenery, discovering new roads and locations that fill you with wonder and a desire to come back and visit someday when you're on vacation, but soon enough the boredom will decide to set in.
The good news is that taking a few precautionary steps will help you fight the ensuing boredom. There is a stereotype that driving is not a mentally stimulating career, and if this is true for you, there are ways to change it for the better. Like any career, driving can be made more mentally stimulating with just a few adjustments!
Combating Boredom
Sometimes creating a mentally engaging environment for your work requires a few changes in your habits and perspectives, but it will be a rewarding shift that ensures you will stay fresh and mentally engaged for the duration of your trip. Trying out these tips and tricks will allow you a degree of entertainment for the long drives, and while some may not work for you, others may become lifelong strategies to stay sharp, or they may inspire you to create strategies of your own!
Some of the best tips to stay mentally engaged while driving include:
Listening to music, audiobooks, and podcasts.

Taking stretch breaks.

Writing music or stories in your mind.
Listening to the radio may be an obvious choice for drivers as it is free and readily available, but there are ways to expand your listening experience including podcasts and audiobooks. Podcasts and audiobooks are a great way to learn while driving. Many of them are downloadable so they do not require consistent radio or cell signal to keep playing, and there are millions of podcasts and audiobooks available for any subject that you find interesting. 
Taking stretch breaks is important for your physical and mental health. These breaks will allow you to stay flexible, fit, and get the blood flowing back into your brain as well. Stretching feels good, and it will make your brain feel sharper.
Writing songs and stories is a great idea for the road, especially for those that are more creatively inclined. Who knows, you may even write the next audio or literary hit! This will also help expand your creativity and language skills, which will be helpful when doing anything involving problem solving and speaking with others.
Keeping Your Mind Sharp
Staying sharp on the road is an important aspect of staying safe and making your drives more fulfilling. You may even find a new passion while trying these strategies. There are plenty of resources online for finding audiobooks, podcasts, and even song and story ideas, so check those out before your next long drive. We understand that sometimes keeping the boredom at bay is hard, but try to approach this issue by thinking outside the box and you will definitely find a way to keep yourself interested and engaged.