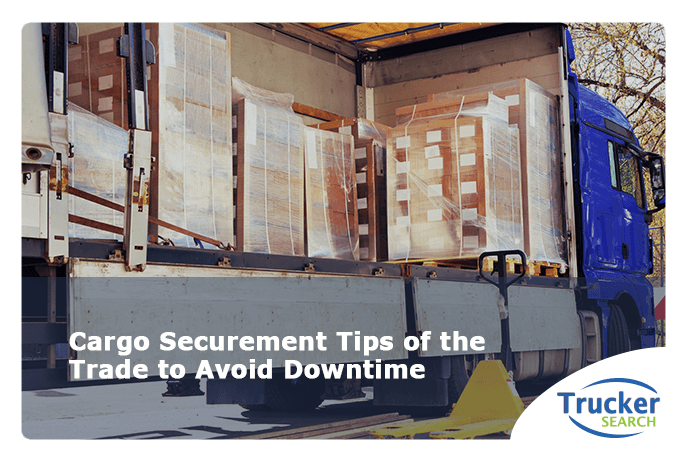 Depending on how you've been taught, you might think that a strap is a strap and a chain is a chain. Securing your cargo might be something you haven't given a lot of thought to in a while. Something to think about is that there are rules in place that you could be unknowingly violating. These rules are in place in an effort to avoid causing damage to other motorists on the road.
Understanding the proper way to tie down and secure loads improves highway safety and keeps you from the lengthy downtimes involved with violating the rules set out by the Commercial Vehicle Safety Alliance (CVSA).
The specific rules to follow come from an older set of regulations given by the Federal Motor Carrier Safety Administration (FMCSA) that took effect in 2004.
The general overview of these rules can be summed up in the following: "Cargo must be firmly immobilized or secured on or within a vehicle by structures of adequate strength, dunnage (loose materials used to support and protect cargo) or dunnage bags (inflatable bags intended to fill space between articles of cargo or between cargo and the wall of the vehicle), shoring bars, tiedowns or a combination of these."
A rule of thumb to go by from these rules is that one tie down is required for items 5 ft. or less in length and under 1,100 lbs. Two tie downs are required for items 5 ft. or less in length and more than 1,100 lbs., or greater than 5 ft but less than 10 ft. long, regardless of weight. An extra tie down is required for every additional 10 ft.
Officers from CVSA enforce these rules during their routine roadside inspections of tractor-trailers and their drivers. If a truck driver is found in noncompliance, their truck can be taken out of service due to inspection item violations.
The concern, from the CVSA officers, is that improperly secured items can fall off the trailer and damage, injure, or even kill other motorists. The item itself might not directly cause a fatality, but a flying, bouncing, and fast approaching object on the road can cause accidents that could possibly lead to a fatality.
New drivers are spooked easily and aren't accustomed to objects hitting their windshield. Older drivers with declining vision and reaction time, are also susceptible to crashes involving unexpected hazards.
In addition to following proper securement rules, routine checks of strap conditions not only help secure the load, but can also prevent unplanned downtime due to a failed CVSA inspection.
A variety of things can damage your straps. Get ahead of this and regularly check straps for cuts, burns, fraying, or other damage.
In cases where you do find damaged straps, replace the strap immediately. Spending a little bit of money now can prevent a significant loss of money due to downtime if the strap fails or is found to be damaged during an inspection. Having extra straps in the cab of your truck is highly recommended.