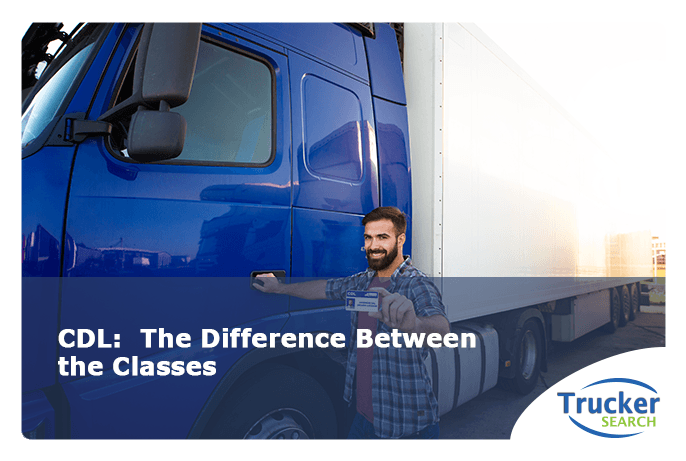 For anyone driving a commercial truck for a living, the federal government requires that he or she has trained for and received a Commercial Driver's License, or CDL.  More specifically, it is a requirement for anyone driving a vehicle weighing 26,001 lbs. or more (excluding the trailer), carrying a trailer weighing more than 10,000 lbs., transporting hazardous materials, or is driving a vehicle that was designed to carry 16 or more people.  CDLs are divided into 3 different types to cover these different circumstances.
Class A
With a Class A CDL and the proper endorsements, a driver could be qualified to drive several different types of vehicles including:
Tractor-trailers
Trucks with double and triple trailers
Tankers
Flatbeds
Many Class B and Class C vehicles
A Class A CDL is the best of the three types because it generally brings in higher pay, more available jobs, and the driver can drive the most types of vehicles including those that require only a Class B or C license.  It covers all of them. Because of this, it also is a longer training period and therefore, more expensive.
Class B
Class B allows the driver to drive a truck that weighs 26,001 lbs. or more but a trailer that weighs less than 10,000 lbs.   These vehicles are:
City, tourist, and school buses
Segmented buses
Dump trucks
Box trucks
Some Class C trucks
Although it is not the most common CDL type, it is a competitive market for Class B drivers.  If you know that you don't want to drive tractor-trailers and you want to be a dump truck driver, for example, you can save money by getting a Class B license instead.  Because it is less common, many truck driving schools don't offer it so it may take some shopping around to find one that does. Getting a Class B license only takes around 40 hours of class time so it can be a quick process and something that can generally be done part-time while you're working another job.
Class C
A Class C CDL allows the driver to drive a vehicle that is designed to carry 16 or more passengers and also small vehicles used to transport hazardous materials.  Often, training for this is offered when a company hires you to do this kind of job but if not, you may have to get a Class B license instead because Class C courses are rare.
Endorsements
As part of your CDL, you can obtain extra training so that you can haul other kinds of freight.  Doing so can not only open you up to more job opportunities but can bring higher pay as well. CDL endorsements require additional testing.  The CDL endorsements are T (Double/Triple Trailers), P (Passenger Vehicles), N (Tankers), H (Hazardous Materials) X (Tanker plus Hazardous Materials), and S (School Bus).  Hazardous materials are potentially dangerous cargo that falls into one or more of the following categories:
Explosives
Gases
Flammable Liquid and Combustible Liquid
Flammable Solid, Spontaneously Combustible, and Dangerous When Wet
Oxidizer and Organic Peroxide
Poison (Toxic) and Poison Inhalation Hazard
Radioactive
Corrosive
To determine which CDL you should get, you should look at your goals.  Class A is the most versatile and you can drive almost anything, especially with added training and endorsements and is the most common.
For drivers with a Class A or a Class B license, Trucker  Search can be a useful tool in finding hiring companies looking for drivers.  It has searchable jobs so truckers can see exactly what hiring companies are looking for, including CDL class requirements. It allows truckers to post a resume that includes all qualifications along with any added endorsements.  Hiring companies can search by CDL class or list the class of CDL they're looking for. It's a web-based service that's quick, easy to use, and a vital tool for truckers in search of great employers. Start your search today at TruckerSearch.com.
Sources:
https://nettts.com/blog/class-a-versus-class-b-cdl-whats-the-difference/
https://www.dmv.org/articles/want-to-do-even-more-with-your-cdl-cdl-classes-and-endorsements/
https://www.fmcsa.dot.gov/sites/fmcsa.dot.gov/files/docs/Nine_Classes_of_Hazardous_Materials-4-2013_508CLN.pdf