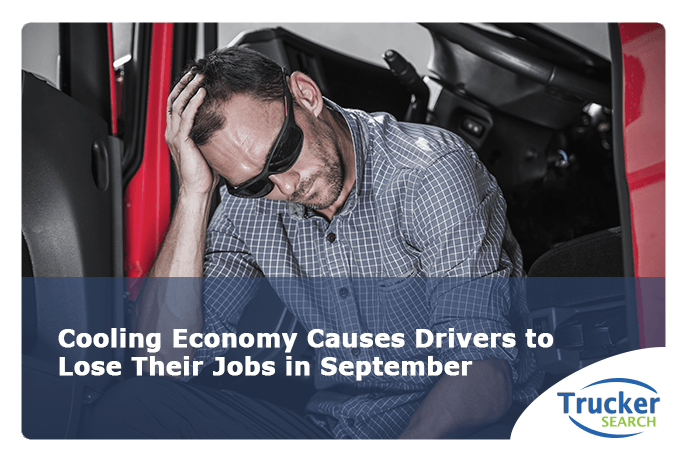 Since the beginning of 2019, the trucking industry has been in a recession.  The rates for shipping freight have dipped to an all-time low and it's hit the industry hard. Drivers are scraping for jobs and 640 trucking companies went into bankruptcy, 3 times the bankruptcies over previous year.  Roadrunner announced it would cut 10% of its workforce.
What's going on?  When factories are doing well, retail is booming, and new construction is cropping up everywhere, the trucking industry does well.  It's simple supply and demand. Last year, the trucking industry was booming and drivers reaped the rewards. To keep up with demand, trucking companies have been increasing their fleets, adding trucks and drivers. In early 2019, they were at capacity, meaning there were enough trucks and drivers to meet the current demand.  What this means, unfortunately, is that rates fall, and with costs not falling too, many trucking companies have been forced into layoffs, or worse?closure.  The cost of fuel has not gone down and neither have insurance costs which have made it difficult for owner/operators and trucking companies to keep going. Even cold storage companies that tend to do well weathering poor economic times have been hit hard with industry leaders slashing their payrolls.
The good news is that although manufacturing is down, retail spending is rising so 2019 isn't a loss yet.  If consumer confidence can rise for the upcoming holiday buying season, rates may rise too.
Become More Marketable to Find Work
If you want to stay on top during the good times as well as slowdowns, you need to make yourself more marketable to trucking companies than other drivers.  You need to stand out from the rest and there are several ways to accomplish this.
Get Endorsements
Endorsements to your CDL show that you have trained to carry various types of loads which will make you more appealing to a trucking company.  Endorsements for double trailers, tankers, hazardous materials, etc. require extra training and certification. Having them makes you more attractive to potential employers and will probably earn you higher pay as well.  If you're an owner/operator, it'll open you up to more loads.
Change locations.  
The economy in some areas of the country may be better than others so there may be better prospects in other regions and could affect your salary too.  The 2017 median income for truck drivers in the U.S. was $44,500  but remote areas like Alaska paid $56,250 and there may be more job opportunities for drivers willing to drive in urban areas like New York City.
Continue to get experience.  
Even if earnings are lower than last year, try to stick it out.  Put in those hours where you can. The more experience you have, the greater the chances of keeping your job or finding a new one.
Find the right company.  
Even with trucking companies laying off drivers, you can find a great company to work for.  If you've been laid off and need to find a new company, Trucker Search can help. It's an important tool in the search for employment opportunities in the trucking industry.  On Trucker Search's website, you can post your résumé (which is a short form application) as well as search the up-to-date database of companies looking for reliable drivers.  It's a great resource for any driver looking for employment in a good economy or bad. Go to TruckerSearch.com today and start driving tomorrow.  
Sources:
https://www.businessinsider.com/trucking-truck-drivers-job-loss-september-2019-10
https://www.businessinsider.com/why-trucking-industry-slowdown-trucker-job-loss-2019-7#trucking-is-highly-cyclical-and-were-coming-off-from-a-massive-uptick-in-the-market-1