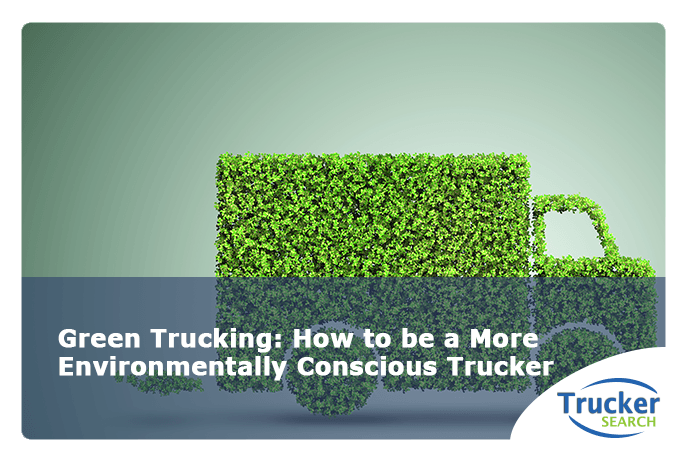 People throughout the world are becoming more conscious of the impact they make on the planet.  From recycling to composting to using reusable bags at grocery stores, people are taking steps to reduce their carbon footprints and create a greener planet for future generations.  
Let's face it, trucking is a highly pollutive industry.  Medium and heavy-duty trucks alone account for 23% of all greenhouse gases according to the EPA. With the popularity of Amazon and other online retailers going through the roof, the number of trucks on the road and pollution will continue to rise and unless the trucking industry takes steps to mitigate greenhouse emissions.  With changes in climate looming in the not-too-distant future, it's now more important than ever that people take steps, no matter how small, to lessen their impact on the environment.
Sure, going green is good for the environment and its inhabitants but it can have a positive impact on your wallet as well.  The main pollutant for truckers is CO2  emitted by their trucks.  Cutting down on emissions means cutting down on fuel consumption which can save a significant amount of money.  
As a trucker, you have the ability to greatly reduce your negative impact on the environment and save money to boot.  
Use GPS or software to plan your route in advance.  Avoid heavy traffic or areas with lots of stop signs or lights, if possible.  Within your plan, include stops for gas and food.

Avoid idling whenever possible.  Idling is so harmful to the environment that California passed a law restricting idling. Other states may follow suit as they look for ways to cut down on greenhouse gases.

Maintain your truck.  One effective way to cut down on fuel consumption is to properly maintain your truck.  Aside from helping to avoid costly breakdowns and prolonging your truck's longevity, getting regular oil changes, frequently changing air filters, replacing misfiring spark plugs, and maintaining the right tire pressure can greatly improve fuel efficiency.

Use an ELD (Electronic Logging Device).  Using one to log your hours will eliminate the need to log them on paper.  Besides, using an ELD was passed into law in 2016 as a way to combat fatigue among trucker drivers. If you're not using one, you're out of compliance.

Fill up in the morning.  Temperatures are lower in the morning and because fuel expands as it becomes warmer, you'll be able to squeeze more fuel in your tank and won't have to fill up as often.   

Don't speed.  You may feel the pressure to get your load to its destination as fast as possible, but speeding can really eat into fuel consumption.  Remember, on highways the magic number is 65. Driving between 60-65 MPH instead of 75 can improve a truck's MPG by up to

27%.    

    

Lower your A/C.  

When you use your A/C, fuel consumption is increased by

0.2-0.4 miles per gallon

.  Of course, you won't be able to stop using your A/C altogether but cutting down when you can will make a big difference.

Recycle your tires.  Truckers go through an abundance of tires.  Find out where to take them at

Earth911

.

Recycle everything else too.  Life on the road involves significant  waste. Plastic bottles, aluminum cans, and clean paper should all be kept in a separate bag to be recycled.  Many truck stops and gas stations have recycling bins, but if you can't find one, go to

Earth911

.  

Think reusable.  You can cut down on all of that plastic waste by bringing snacks, drinks, and meals from home.  Bonus: the foods we pack from home usually are healthier and have fewer calories than the food we buy on the road.  It's usually cheaper too.
By becoming a more "green" trucker you make yourself potentially attractive to employers, and in fact, it can open up a growing sector of companies who are making efforts to go green themselves.  Why would a company spend time, energy, and money reducing its carbon footprint and not ship its product in the greenest way possible? When it comes down to it, going green means saving fuel which is important for shipper and trucker alike.  
If you're a trucker looking for companies in need of drivers, whether you're an owner/operator or you're looking to work for a shipper with its own fleet, Trucker Search can help.  With our vast database of job listings, you're sure to find the right job for you. You may also post your resume online and let the shippers look for you. Choose what state or region you're looking for and Trucker Search will do the rest.  Go to Trucker Search and find that new trucking job today!     
Sources:
https://news.nationalgeographic.com/news/energy/2011/09/110923-fuel-economy-for-trucks/
https://www.epa.gov/greenvehicles/fast-facts-transportation-greenhouse-gas-emissions
https://marketing.atbs.com/acton/attachment/29007/f-01c9/1/-/-/-/-/ATBS%20-%20Top%2020%20Ways%20for%20Truck%20Drivers%20to%20Improve%20Fuel%20Efficiency.pdf