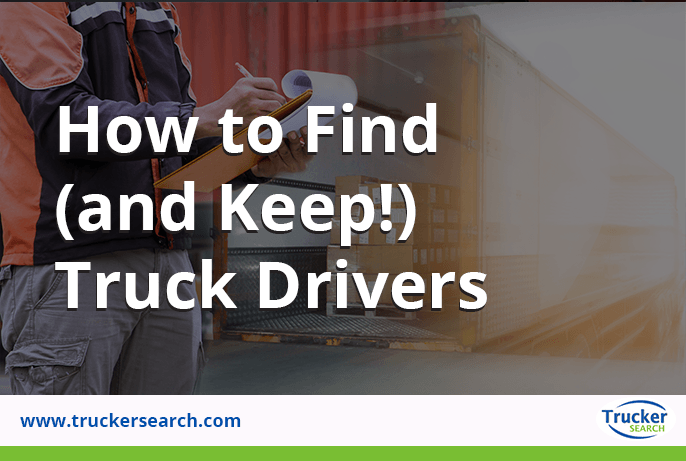 Finding a truck driver isn't an easy task.  Advertising in newspapers and magazines is expensive and searching most job sites is a nightmare because, despite your search criteria, you have to sift through a deluge of applicants looking for jobs other than driving a truck.  There's a better solution. Trucker Search is a web-based service that matches companies with truck drivers who are looking for work and no one else. It couldn't be simpler. Post your available positions for truckers to search themselves or search our database of available truck drivers.  This streamlined service is only for truck drivers and only for companies looking for drivers.
With information such as years of experience, number of tickets, preferred runs, and types of vehicles they can drive, you can find the perfect fit for your company.  You can even view the full resume before you call.
Today's is a seller's market in the world of trucking driven by a shortage of drivers so it's not just a matter of finding a great truck driver, you want to keep them too.  Fortunately, there's a lot you can do to create an environment where your new hire will want to become a seasoned employee.
Pay more.  This may seem obvious, your pay needs to be competitive, and as the old saying goes, you get what you pay for.  If you someone who's good, you're going to have to pay a decent wage. Additionally, many truckers prefer predictable pay and may want to stay with your company if you're offering a guaranteed minimum number of miles each week.

Be engaged.  Let your drivers know who they're working for.  It's easy for a truck driver to become detached when they're out on the road alone so you should meet with them regularly and make them feel like they're part of the company because they are, and a very important one at that.

Offer incentives to do well.  Paying bonuses to the trucker who gets the best fuel mileage or other offers can save the company money.  It will not only encourage your drivers to work harder, a little healthy competition can make them feel like they're part of something bigger.

Ask for driver input.  Truck drivers will have useful ideas on improving the trucking aspect of your business, and they'll be a more satisfied employee with the knowledge that their ideas are being heard.

Keep your drivers healthy.  Driving a truck has the tendency to be an unhealthy profession.  Inactivity during hours on the road mixed with the convenience of fast food can wreak havoc on the health of drivers.  Encourage them to make healthy choices with diet and exercise contests, try to start a basketball or softball team, or put a walking path around your facility.  Even putting up a basketball hoop or volleyball court will give them a place to exercise and it will show them that you care about their health.

Keep routes regional.  One reason for the shortage of drivers in the shipping industry may be that many are turned off the the profession because of long trips that will keep them away from home for long stretches of time.  If it's possible to break up your routes, your drivers may be happier and stay with your company.

Be honest and upfront about the job.  Most turnovers in the trucking industry happen in the first 2 or 3 months, largely because of driver dissatisfaction and that the job didn't match their expectations.  Don't tell them it's a job that will have them home every weekend if it won't. Being honest will help you find the right driver for the job.
With the right tools, such as Trucker Search, and some key strategies, it is possible to find and retain the right people for your company.  To begin your search for a great candidate, go to truckersearch.com or call (888)254-3712 and we'll tell you how to get started.