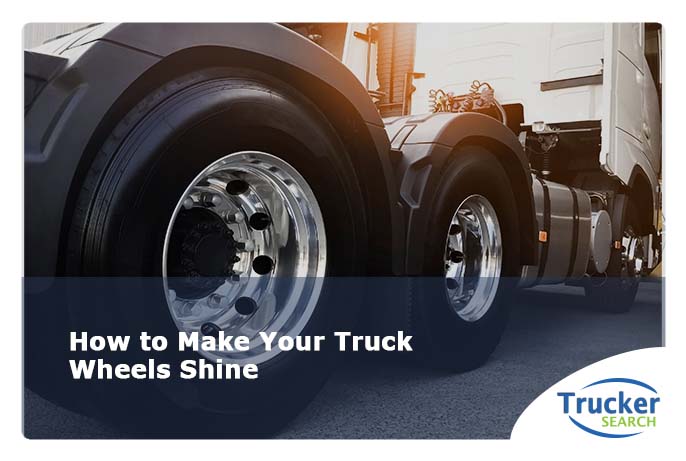 While some truckers won't care about the beauty of having their wheels shine, most will care if dirty wheels cause wheel damage. Because this is the case, wheel damage can end up completely derailing a trucker's route and schedule. So learning how to make that aluminum wheel sparkle can be a great tool. 
But what's the best way to go about it? Whether you are a beginner or need some brushing up (no pun intended), we have the ultimate way to do it. 
Step 1:  Rinse and Wash
The first and most important step is getting rid of the dirt that is building up in your wheels. You also want to check that there are  no small rust spots forming when cleaning the wheels. You can do this with a power washer or hose. After using just water, you can start to use a wheel cleaner solution. Make sure that this is manufacturer approved because you don't want a solution that will eat into the wheel materials. 
Get into all the tiny bits and pieces like the spokes, lug nuts, and wheel wells. Getting the wheel completely cleaned in wheel solution is the key to ensuring the wheels stay healthy. Once you do this, rinse it all off. 
Step 2: Polish
Now that the grunt work is over you can polish to brighten up the wheels. Again, make sure that you are using both an approved polish and polish tool. While applying the polish one wheel at a time you can increase the speed of your polisher. Once you are done with this process use a towel to wipe the polish off. 
Step 3: Buff It Up
With an approved, and great quality, sealant finishes your work off by ensuring it stays nice for a little while. You can use a buffer pad to rub the sealant in and get the shine you worked for! If you do come across more dirt caught up in the wheel, it's better to go back to stage one than try to buff it out. 
Why Does This Matter?
While we talked about the fact that your own schedule and driving can be affected when you have wheels with built-up debris, there are other reasons you should ocean your wheels as well. You don't want to contribute to debris, dirt, and grime kicking up from your truck and affecting other drivers on the road. With so much dirt built up on trucks, it's possible to have rocks or hard dirt impair one of the other drivers on the road. 
To prevent this you can follow the steps above, making sure to put priority on rinsing and washing the wheels thoroughly. This is the best way to remove the dirt. Only after can you use a high-quality polish and later sealant. Just remember that any products you use and tools should be approved so you don't cause any damage to the wheels that could result in issues.