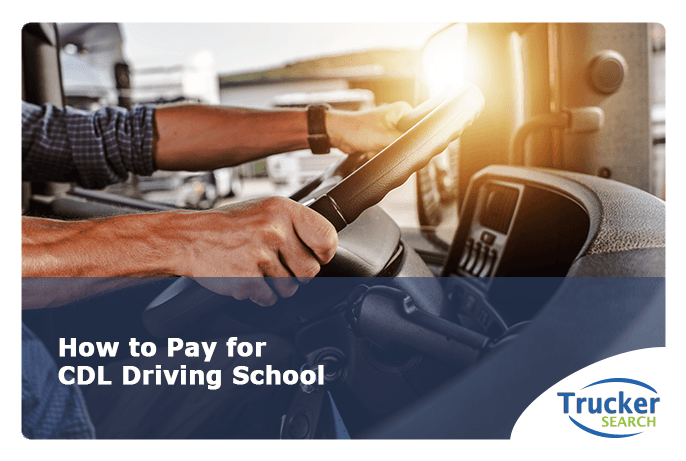 In today's job market, the decision to earn a CDL (Commercial Driver's License) is almost a no-brainer.  Every day, the need to ship goods all around the country grows and qualified truck drivers are in increasingly high demand.  To keep up with the demand for truckers, trucking companies are offering more and more incentives to attract drivers like higher pay, sign-on and other bonuses, and shorter routes for more regular schedules.  These opportunities can be yours if you earn your CDL. But how do you pay for the training?
Depending on the school and region that you get your CDL, it generally will cost anywhere from $3,000-$7,000.  Other factors that can affect the cost are how much time is spent in the classroom and on the road, the reputation of the school and whether or not the class includes board for the duration of the class for students who need it.  
If you don't have thousands of dollars to pay for your schooling up front or don't want to spend years pinching your pennies to save for it, there are several options available that'll help you make your dream of driving a truck a reality.
Financial Aid
Many schools offer financial aid to help pay for a CDL for those who qualify.  They may offer private grants, federal grants, scholarships, and if you are a veteran who is eligible for the GI Bill, you can use those funds for your training.  Some schools allow you to finance through them, but get all of the facts before you sign. Their interest rates may be extremely high compared to your local credit union.
Take Out a Loan
If you have good credit and have something of value for collateral, you may be able to take out a loan from a bank or credit union.  If you do this, be sure to shop around for the best rate. However, taking out a loan can be extremely risky. What if you're halfway through your training and you realize that becoming a truck driver isn't for you?  Now you're left with a loan to pay back and if you can't, you risk your good credit and losing your home, car, or whatever you used for collateral.
Shorter Course Duration
There are schools that offer less expensive, speed courses to get your CDL.  Sure, this can save money but quickie CDL training is less desirable to employers who want to hire drivers who know what they're doing.  If you're taking a two-week course, you're not going to get the same thorough training that you would in a more comprehensive course. It also means you're not getting much driving time.  It's important for your own safety as well as the safety of others, that you get extensive training before you hit the open road on your first job. Trucking companies don't want truckers who speed through a short course; they want drivers who have taken the time to learn.  Training from a good, comprehensive training program will help land you a better job and be a better driver.
Paid CDL Training
Paid CDL training is company-sponsored CDL training.  These schools are usually owned and operated by trucking companies who will pay for your schooling as long as you agree to work for them for a period after you've been certified, usually 6 months to a year.  Some may require you to pay them back during the contract period in which you're working for them or some may have you pay up front and they'll reimburse you upon completion. Companies who do tuition reimbursement may not pay you a lump sum when you're done.  Instead, they may pay you $100-200 a month until it's paid off which can take a long time.
If you don't want to be locked into a contract, pay upfront and be reimbursed after you've earned your CDL.  You could possibly lose your reimbursement but have no obligation to work for the company if you change your mind.  However, getting locked into a contract with a trucking company shouldn't automatically be a bad thing. When you earn your certification, you'll be a rookie.  Any company who hires you is taking a chance that you'll be a safe and productive driver for them. It's a good idea to stick around for the first year and not only learn the ropes but to show potential employers that you have longevity.
Paid CDL can be a great option.  The company is investing in you, and they want their drivers to be able to do the job well and to drive safely so they'll take the time to train you properly.  If they're not doing that, they'll lose money on their investment.
The company will also be training you on the equipment you'll be be driving and teach you their own procedures which will make your first day on the job go much more smoothly.  
Be Sure
Do plenty of research to determine if driving a big rig is for you.  While it's difficult to be certain until you get behind the wheel and on the road, if you can look closely at all of the angles ahead of time, you might save yourself some money.  There's ample information online about the ups and downs of life as a truck driver. If you know someone who drives a truck, ask if you can ride along for a day and get a feel for what it's like.  Driving a truck is not an easy job but it can be rewarding and lucrative.
Before you decide which route to take, research the trucking companies in your area with a good reputation and that you plan on applying at when you graduate.  Do they have their own trucking school? If you choose their school and they pay for your CDL, you'll be hired when you've successfully completed the course.
If you choose to pay for it yourself, check out several schools thoroughly before you commit to one.  They're not all the same and you should choose your school by what you'll get out of it?not merely your CDL but the individual attention and ample classroom and driving time they have to offer.  Classroom time is important too but driving a big rig is something that requires hands-on learning.
Earning your CDL can be the first step to a long and successful career in the trucking industry.  Whether you want to join a large trucking company or you aspire to be your own boss as an owner/operator, it all begins with your CDL training.  With all of the incentives and aids to help drivers afford training, your rewarding career in trucking can be just around the corner.
If you've earned your CDL and you're looking for that first great job, look no further than Trucker Search.  Trucker Search gives truckers a place to post their resumes where they can be seen by thousands of potential employers, as well as search the database of hiring companies themselves.  It's a fantastic resource for truckers who are just starting out or seasoned drivers looking to find a new job. Start your search today at TruckerSearch.com.