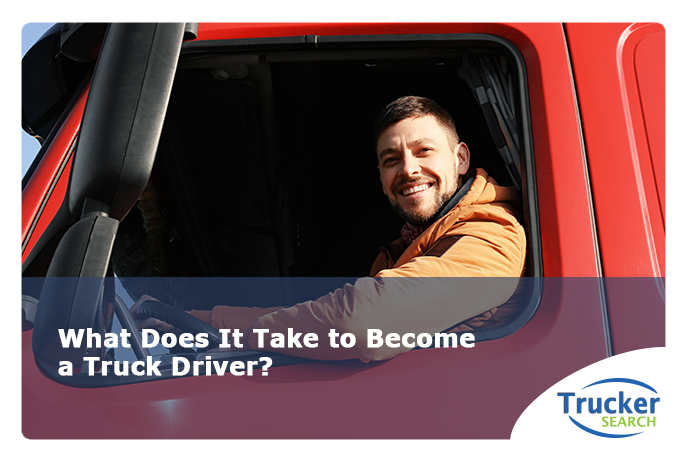 Driving a truck is both rewarding and challenging.  As the shipping industry continues to grow, the need for qualified, dependable drivers grows too, providing a path for a lifelong, good-paying career for the right person.  Are you that person?
Before diving into driving a truck, there are some things to think about.
Considerations
There will be stress.  You may envision yourself driving down the highway,wind in your hair, no people to deal with, carefree, but this is not a realistic vision of life on the road.  You'll be in direct contact with a dispatcher,customers, you'll have deadlines that must be met without going over your hours of service limit. All while suffering through traffic, getting lost, or having to find a place to unload where there's little room for a big truck.
There will be loneliness.  Despite dealing with a dispatcher and customers, you will experience loneliness, especially if you drive long hauls.  Many truckers combat this by bringing along their spouse or a dog. Keeping in contact with family via Skype can help those long hours not seem so long. Occupying your mind on the highway by listening to podcasts you enjoy is helpful too.
It can be harmful to relationships.  Being away from loved ones for extended periods can put a strain on relationships.  Because it's becoming increasingly difficult to find drivers who are willing to take longer routes, more companies have been taking steps to be able to offer shorter runs.  If you're going to drive longer routes, you need to understand how difficult it will be for your spouse and children (and you!) to have you away for extended periods of time.  
There's an upfront cost.  Training for a CDL can cost between $3,000-$8,000 and take 8 weeks.  Many larger trucking companies will offer to pay your tuition, reimburse you, or offer their own training, if you commit to work for them for a specific amount of time, typically a year.
There's an age restriction.  Currently, the age for driving a truck across state lines is 21.  The minimum age for obtaining a CDL is 18 but the driver is restricted by federal law to drive only within the state until age 21.  Most companies prefer hiring drivers over age 18 so they don't have to worry about the restriction. There is a push by trucking companies to get the law changed to allow 18-year-olds to drive across state lines because the age restriction makes finding drivers even more difficult amid the current driver shortage.
There will be good pay.  The salary for truck drivers varies.  According to the American Trucker Association, the median salary for tractor-trailer drivers last year was $53,000 and even as high as $86,000 for experienced drivers in private fleets.  The driver shortage has increased salaries as businesses struggle to find reliable drivers.
The Good News
Aside from the increasingly good pay, there has never been a better time to become a truck driver.  Carriers are always on the lookout for hard-working, reliable drivers to join their fleets and may offer great benefits and bonuses for new-hires or for making quotas.  They may even offer shorter runs so you're not far from home.
Trucker Search is THE tool you need if you're looking for employment opportunities in the trucking industry.  On Trucker Search's website, you can post your résumé (which is a short form application) as well as search the ever-expanding database of companies looking for drivers.  It's a great resource for any driver starting out in the trucking industry.
Sources:
https://www.trucking.org/article/New-Survey-Data-Reveals-Increases-in-Driver-Compensation
https://www.fleetowner.com/driver-management/legislation-would-allow-18-21-year-olds-drive-interstate