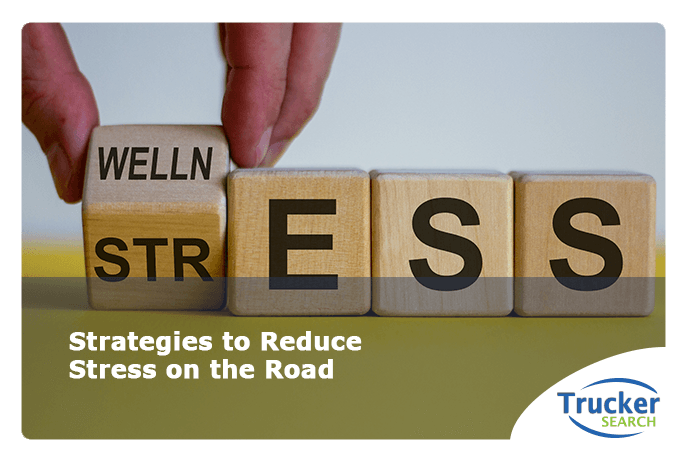 "That stresses me out!" This is a phrase that we hear often about a variety of subjects. Stress is something that all people deal with to some degree, as it is a biological response to a stimulus that is perceived as being dangerous or concerning. Stress is a feeling of physical tension and anxiety and cortisol, the primary hormone associated with stress, is known to raise blood pressure and increase heart rates in those with higher-than-normal levels.
The Wear of the Road
Truck driving can be a very rewarding career with the ability to travel across the nation and solid pay after a few years of experience. However, this can also be a very stressful career as it is fast-paced, full of responsibility, and hugely schedule-dependent. Managing the safety of your cargo while providing expedient transport is a big responsibility, and can be very anxiety-inducing when it seems like you cannot make it to your destination on time.
These worries, coupled with long hours, can lead to a lot of stress which can be unhealthy for extended periods of time. This keeps your body running in survival mode which can lead to many ill effects on your health like, an increased risk of heart attack and stroke (According to the American Psychological Association). The good news is that stress is manageable with some effort and this means that you can remain calm and secure even in the worst situations.
Stress Management Tips
Stress seems like an insurmountable wall when you experience it firsthand, but it is possible to overcome the anxiety of the moment. One of the best things to remember when facing a stressful situation is that it will not last forever, and you will be free from it soon. If you find yourself experiencing stress, try to breathe slowly and evenly to lower your heart rate and blood pressure to reduce the panic response your body is producing. It may help to go to a quiet room or pull off at a truck stop to walk around for a minute or two. After you have initially calmed down, it is important to address the stress.
The best way to keep stress under control is by being aware of the things that cause you stress and learning how to better approach them before they upset you. Writing down things that cause you stress, and attempting to remove your exposure to them can be one strategy of reducing the number of stressors you are exposed to. If you cannot avoid the things that are stressing you out, it may be a good idea to find ways to better cope with them- this may take time and some compromise. For example, if you find yourself worrying about time, it can be a good idea to write down a schedule and try to stick to it. Simply writing down tasks you need to complete or times you need to arrive at various destinations can help you reduce the load on your brain and keep your thoughts organized.
A Note of Encouragement
Stress can be difficult and unhealthy, but it is possible to reduce the amount of stressful thoughts. Getting organized and giving yourself mental breaks, while trying to maintain regular breathing, goes a long way in reducing the stress you may experience. There are plenty of resources, with a wide array of strategies, available to help keep your stress at bay. Some may work better than others, so it is important to explore and find the strategy that is best for you.