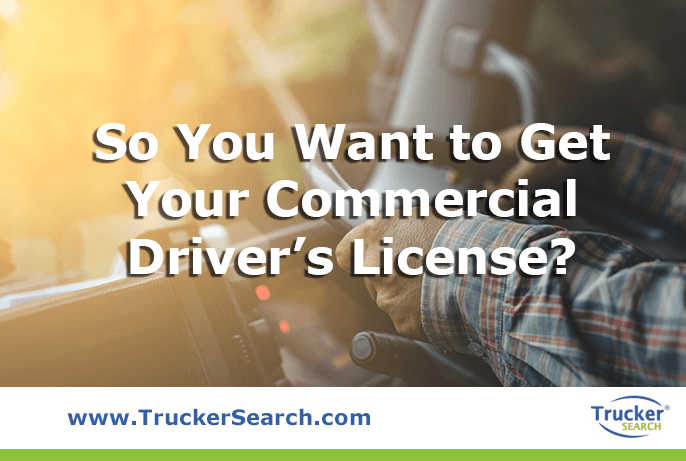 Are you a recent high school graduate and you're not going to college but you want to earn a good salary?  Maybe you're tired of your low-paying, dead-end job and are looking for a career change. Or maybe, a career as a truck driver has always been appealing to you.  Now what do you do?
Classes
Obviously, if you want to be a truck driver, you need to know how to drive a truck.  You need to obtain your CDL?Commercial Driver's License?which comes in Class A, B, and C, each allowing you to operate different kinds of vehicles.
Class A:  Tractor trailer:

Tractor trailer

Truck and trailer combos

Tankers

Flatbeds

Class B:  

Straight trucks

Small-load trucks

Box trucks

Buses

Tractor trailers

Class C:

Small HazMat vehicles

Passenger vans

Combo vehicles not covered by Class A and Class B
While you can drive tractor trailer trucks with either a Class A or B license, the weight of the tractor cannot exceed 26,001 lbs. and the trailer must be less than 10,000 lbs.  For this reason, there will be more job opportunities without the weight restrictions, if you're interested in driving tractor trailer trucks.
CDL training courses vary from 1-12 weeks depending on whether you take full-time, 5-days a week classes or part-time and which license class you're want to obtain.  Class A courses generally take the longest because the license allows you to drive a greater number of vehicles.
Getting Your License
You took the CDL course and passed with flying colors.  Now it's time to get your CDL permit. All of the rules and regulations for your CDL are mandated by The Federal Motor Carrier Safety Administration (FMCSA).  Although states may have their own requirements, they still have to adhere to federal rules.
To be eligible to apply for your CDL, you must be 21 years old to drive across state lines as well as  operate a vehicle carrying hazardous materials. If you have felonies on your record, you may be disqualified for  CDL eligibility.
To obtain your commercial driver's permit and commercial driver's license, you must:
Test for and obtain a commercial learner's permit (CLP)

Have possessed CLP for a minimum of 14 days  (You can have it longer.)

Take and pass the commercial driver's license (CDL) road skills test
When applying for the permit, you must supply your current driver's license, a 10-year driving history (the DMV may check this or you may be asked to bring a copy), and a Medical Examination Self-Certification Form.  This form certifies a qualifying medical examiner stated you are physically able to drive a commercial vehicle.
To pass the permit test, you must:
Pass a knowledge and skills test that has a minimum of 30 questions with a passing grade of at least 80%.  (These are federal guidelines and your state may have more than 30 questions and/or require a higher grade.)
Once you've possessed your permit for 14 days and have practiced with someone who has their commercial driver's license, you can apply for your CDL.  To obtain your CDL, you must:
Provide a vehicle for your skills test.  It must be the same type that you're planning to test with and drive after you've gotten your CDL.

Pass the CDL skills test, which includes:

A vehicle inspection

A basic controls exam

A road test
It's important to note that each state may have different requirements in each of these steps.  For example, some states require that you complete a CDL course where other states do not. A list of rules and requirements by state can be found on the Department of Motor Vehicles' website here.  There may also be additional testing and forms needed to add an endorsement to your CDL (A, B, C).
CDL and Beyond
You did it!  You earned your CDL and you're ready to hit the open road.  Now what? You need to find a place where you can search for jobs or post your resume for hiring companies to see.  Trucker Search is that place!  At Trucker Search, you can find a great job to begin your trucking career.  With our easy-to-use interface you can get your resume online in minutes and it will be viewed by companies all over the country looking for drivers.  You can also actively search our nationwide database of companies searching for drivers like you. Go to TruckerSearch.com or call (888)254-3712 to find out more!