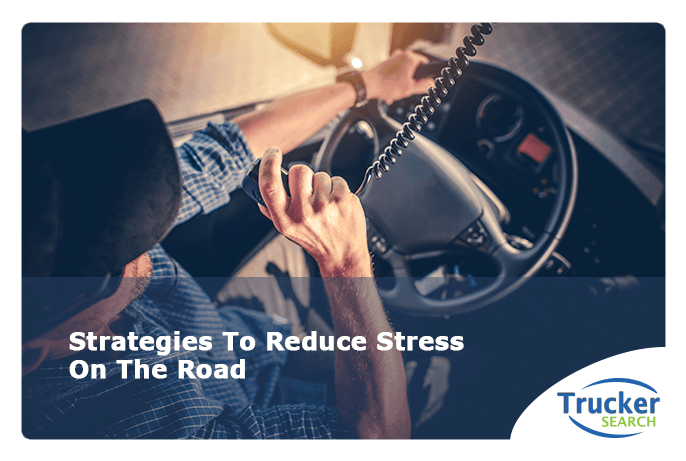 As an over-the-road truck driver there are many enjoyable aspects of the job. You have the chance to see sights that other people can only dream of, you interact with people from different places and stages of life and there is time to catch up on your favorite podcast or audiobooks, all from the seat of your cab. Even though driving can be very enjoyable we are all aware that it can also be stressful.  As you are driving for extended periods of time to make sure you get to your destination on time many things can cause stress to build. Tight schedules, weather conditions and road construction are just a few of the everyday stresses drivers deal with. It is important to practice stress reducing techniques while you are on the open road for your overall well-being. Follow some or all of the following tips in order to be less stressed while you are out on the road.
Take deep breaths. When you start to feel stress and tension building, take a few deep breaths. Diaphragmatic breathing with inhaling and exhaling is a very powerful way to relax in order to calm the mind and body. Start by taking a deep breath in through your nose, making sure your diaphragm inflates with lots of air, helping your lungs to stretch. Hold your breath for about seven or eight seconds then exhale on count nine or ten. Repeat this five to 10 times in a row.
Adjust your position. Just by adjusting the way you are sitting and keeping your body loose can help decrease stress. When you find yourself gripping the steering wheel too tightly, loosen your hands and fingers. If you are hunching over the wheel, lean back or adjust the seat to become more comfortable. When stopped at a stoplight, stretch your arms in the air or stretch your neck from side to side to relieve any muscle tension.
Listen to music. Music can go a long way, especially when you are stressed while driving. Music can elevate your mood, lower stress, and calm the body. So create a playlist of your favorite stress reducing music so you can turn it on when needed.
Leave extra space. Knowing that another vehicle is right beside you, in front of you, or behind you can cause unwanted stress. Leaving extra space between you and that other vehicle can help ease the fear of getting into a wreck prepare you for the unexpected. When driving on the highway, allow room for cars to merge, and if you are driving at night or during bad weather, give yourself more room if you have to stop quickly.
Allow extra time. If you are feeling stressed even before you head out onto the road, allow yourself some extra time to drive. If you are driving to someplace new, give yourself some extra time to find the place or in case you get lost. Also, try planning your route ahead of time to avoid traffic or construction delays.
Pull over. If you start feeling overwhelmed and stressed, pull off to the side when it is safe or at a rest stop, even if it's just for a few minutes. Stress can most likely affect your driving abilities, so for your safety and for others, it is best to be cautious and take a break to calm down, allowing yourself to clear your head.
Get adequate sleep. Lack of sleep is never any good and can lead to higher stress levels. Getting enough sleep is very important for your health and allows your body to refresh and prepare for the next day. If you are drowsy or groggy, your reaction time could be compromised, you might begin driving recklessly, or you might even fall asleep. All of these could put you and others in danger.
Eat Healthy. Although it may be difficult to eat healthy while on the road, good nutrition has been proven to reduce stress. Not only will healthy eating help reduce your stress, but it will help you maintain a healthy weight and reduce your risk of chronic diseases.
There can be many things that cause stress while driving, including other drivers, weather, and construction. However, stress shouldn't hold you back from getting to your destination on time and safely. Consider bringing a copy of this list with you the next time you are out on the road. When you are experiencing a stressful situation, pull it out and try one or more of these tips to help relieve any tension you may have.