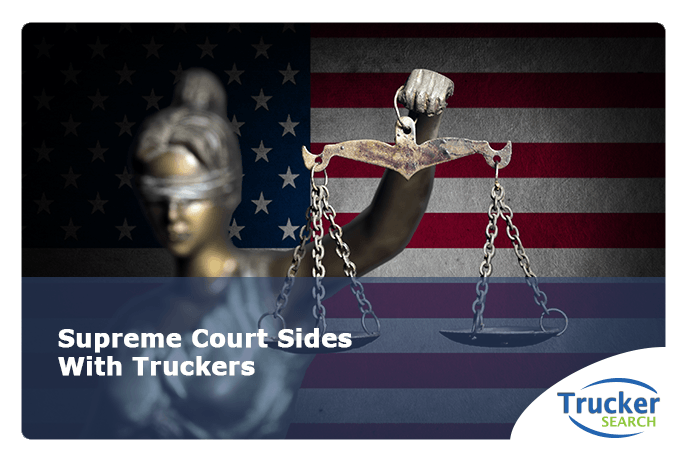 In an 8-0 opinion, the Supreme Court ruled in January that New Prime Inc., a Springfield, MO-based trucking company cannot force an employee, a truck driver, to settle a dispute with them through arbitration instead of in the courts.  The ruling is a win for truckers because arbitration tends to favor the employer over the employee.
The driver, Dominic Oliveira, is an owner/operator who sued New Prime because he believed they were denying their drivers lawful wages.  New Prime, who uses more than 5,000 contractors, claimed that the dispute couldn't be settled in the courts because Oliveira had signed a contract in which it states that only arbitration is allowed for disputes.  In arbitration, there's one arbiter, and no jury, it doesn't allow any details of the case to be released publicly, and there's no chance for an appeal. Arbitration usually benefits the employer.
The case centers around the Federal Arbitration Act.  Enacted in 1925, the Act, or FAA, was aimed at pushing arbitration over lawsuits in the courts because they're speedier and less expensive for all parties involved.  However, over the years the Act has come under fire for giving workers no choice in the matter and it is to the employer's advantage to not giving the employee the choice of a jury trial.  
The Court's opinion:  "While a court's authority under the Arbitration Act to compel arbitration may be considerable, it isn't unconditional."   The decision was a unanimous one, ruling that the workers in the case were exempt from these rules in their contracts because they are transportation workers.  It has yet to be seen what the effect on companies like Amazon, DoorDash, Uber, and Lyft, all who rely on contracted drivers will be but it's likely to help any of these workers who may be filing lawsuits against their employers.
While the decision mandates that truckers cannot be forced into private arbitration to settle disputes, the ruling only applies at the federal level which means it only pertains to companies whose drivers cross state lines.  State arbitration laws will still apply to those companies that only transport in-state.
The claim was that the FAA had originally exempted certain transportation employees, an exemption that should include truck drivers regardless of whether they are a contractor or a regular employee. The case also claimed that the company classified Oliveira and the others as independent contractors instead of employees to avoid adhering to labor laws and avoiding paying them a minimum wage.  This has long been a complaint by the Teamsters because it's not only the ability to sue or receive minimum wage that trucking companies can get around by not being subject to labor laws. As contractors, truckers have little recourse against overtime abuses, discrimination, wrongful termination, sexual harassment, and any injuries that may happen in the workplace.
The decision means that Oliveira can go ahead with his original lawsuit against New Prime in court.   
If you're a trucker looking for a great company to work for, Trucker Search is the place to go.  You can post your resume or search our vast database of companies looking for drivers to join their teams.  Go to Trucker Search and begin your search today.  
Sources:
https://fas.org/sgp/crs/misc/R44960.pdf
https://www.trucks.com/2019/01/16/arbitration-not-mandatory-independent-truckers-supreme-court/