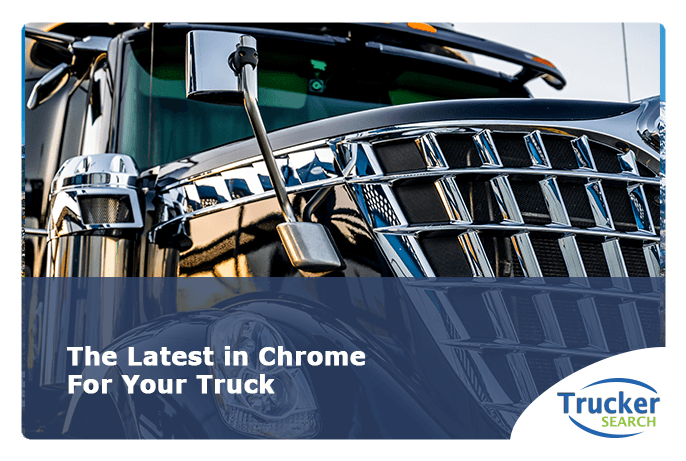 As a truck driver, you want to be proud of your rig. Seeing all of the amazing rigs at contests across the country can inspire any truck driver to spruce up their truck. One thing to keep in mind, however, is that when it comes to chrome, one size does not fit all. Many semi-truck accessories must be manufactured specifically for your make and model. Having an example using your same make and model of truck makes it easier for shops to communicate with semi-truck accessory manufacturers. There are manufacturers who produce universal accessories; however, they do not always fit or function as well as the specific brand.
When it comes to choosing the right chrome accessories for your truck, keep these things in mind:
Find pictures of trucks that you like. You may not always know the name of the part that you are interested in. By having a picture, you are able to bring it into a shop and have the experts help you. If you don't have time to stop in, you can also try emailing a picture.
Look for warranties. Your truck is your livelihood so you must remember that with any aftermarket change, you are running the risk of changing things from the manufacturer's original design. Make sure that whatever parts you choose, they have a good warranty program. Having a good warranty will help keep you from experiencing any considerable downtime if a major breakdown occurs.
Try adding value. Adding chrome and other custom parts can instantly add value to older or barebone models. When trying to figure out what accessories to add to your rig, try learning what the top tier model of your truck came with off the line. You can easily redesign your basic model truck to make it as good or even better than the elite model.
Keeping up with the latest looks and style for your big rig shouldn't be stressful. It should be a fun and exciting time making sure your truck looks the best that it can. Here are some ideas as to what kind of chrome accessories will make your truck stand out.
Chrome bumpers
–     Practical, affordable, and stylish
Chrome nut covers
ABS Chrome tape
–     Impact-resistant, mechanically and thermally resilient, and high-quality thermoplastic which is ecologically sound
Chrome trim
–     Provides a custom look and is perfect for trimming your bug shields, door jams, and windshields
Chrome wire loom and ties
–     These are the perfect way to beautify and protect your wire, cable, or hose applications
Chrome train whistle
–     A fun alternative to a train horn and sounds just like a real freight train
Chrome round horn covers
–     These covers keep your horn blowing through all weather conditions
Chrome grill guards
–     Grill guards can save you time and money in case of an accident or collision. They can decrease the number of times you have to visit the shop for repairs. Guards also add a clean, aggressive look to your truck and protect your bumper, lights, and hood.
Here at Trucker Search, we will help you find the right company that fits your needs and the most dedicated drivers that will make your company proud. There are many positions available so contact us today at 1-888-254-3712 so we can help you get started on your journey.