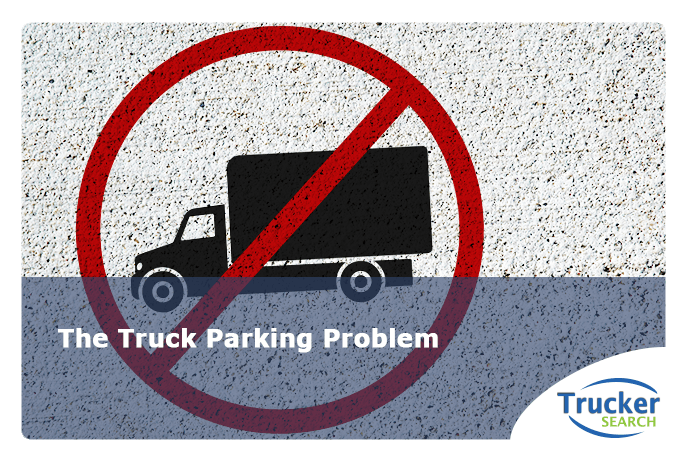 Everybody hates trying to find a place to park.  During peak hours, spaces are few and far between, nobody can seem to not take up more than one spot, and if parking spaces keep shrinking the way they are, only Smart Cars will be able to fit in them.  Now imagine you're driving an 18-wheeler.
Parking has been a growing problem in the trucking industry for years.  According to ATRI, lack of parking was the #2 concern for drivers. According to the ATA, there are 300,000 parking spaces for 3 million on the road.  Truck traffic is growing faster than the available parking.  
What's Causing It
It's a problem with many causes.  Many states have been closing rest stops as a way to cut state spending. Less state funding and zoning for new spaces, more LTL's and more delivery vans on the road all contribute to the parking problem but most drivers blame the new Hours of Service regulations for exacerbating an already growing problem.  Most drivers are on the road during the day and a couple of hours before the HoS clock ticks 14 hours, they all begin looking for places to park for the night and get a meal, making it harder to find spots. Many will give up driving time if they've found a spot. The lack of parking, with drivers needing to use up to two of their 14 hours of driving time affects the carriers' bottom line.    
The Danger
The real danger of the parking problem is for the safety of drivers.  Drivers who are desperate to find parking before their HoS are up are being left with only poorly-lit vacant lots or remote areas to park that put their safety at risk.
In 2009, driver Jason Rivenburg parked his truck at a gas station because he was too early to make his delivery.  It was there that he was murdered, shot and robbed for the $7 in cash he had in his pocket.  Several years later, Jason's Law was enacted to make safe parking for truck drivers a top national priority.  
Since its enactment, surveys of drivers have been done, the results of which prompted the DOT to form the National Coalition on Truck Parking to share best practices and get the word out about the urgent need for safe parking.  
 Solutions  
Technology is available to cut down on parking space search times.  There are apps and websites that help drivers find and reserve spots and in the future, they may integrate with ELDs.  
Some shippers offer safe, overnight parking for drivers.  As the parking problem worsens, look for more to be doing this to improve their shipping schedules.  If you have a regular route to a business, ask about using their space or if they have multiple locations, you may be able to make arrangements along the way.    
It's not that space isn't available.  Many cities and towns have industrial properties that have shut down that could be converted into safe parking if it weren't for a lack of funding.  Getting the word out by contacting state representatives to explain the importance of parking for truck drivers could get funding shifted to help. The real solution to the problem will come only by creating more spaces.  
Trucker Search is the only tool you need if you're a trucker looking for a great company to work for.  On Trucker Search's website, you can post your résumé as well as search the comprehensive database of companies looking for drivers.  It's a great resource for any driver looking for a great place to work.
Sources:
https://www.freightwaves.com/news/economics/solving-the-truck-parking-problem
https://www.desmoinesregister.com/story/news/politics/2018/06/25/iowa-dot-department-transportation-could-close-highway-rest-areas-driving-travel-interstate-35-80-29/730509002/
https://jasonsbill.wordpress.com/jasons-story-2/
https://ops.fhwa.dot.gov/freight/infrastructure/truck_parking/workinggroups/index.htmf
https://www.truckersnews.com/apps-help-find-truck-parking/
https://www.loaddelivered.com/blog/addressing-americas-truck-parking-problem/