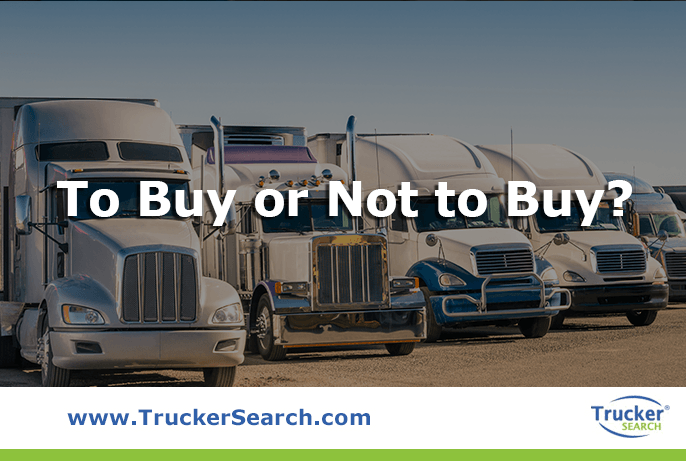 Buy my own rig?  That is the question.  
For many, the open road is a calling.  For others, it's a way to earn a good living working for a company, driving their trucks.  But some see it as the potential to own a business and be the boss by buying their very own big rig.
What You Should Know
There are many advantages to owning your own truck.  You're the boss. You choose when you work and which jobs you take.  You negotiate the price, and without a trucking company paying you, when you are the trucking company, more of that money goes to you.  You make all of the decisions, are responsible for all the work, you're the Big Kahuna.
The disadvantages to being an owner/operator?  You make all of the decisions, are responsible for all the work, you're the Big Kahuna.  Any problems that arise such as your truck breaking down or deliveries not being made on time, fall on you.  You're the one that has to rectify and pay for it all. You can't put it on someone else's plate.
If you decide that you do want to be the Big Kahuna, you need to be prepared.  You'll need lots of money to start. Few people have the money to buy a rig outright so most will have to finance it.  Having a large down-payment will make the monthly payments more manageable, which you'll need because you'll most likely face a few customers who are slow to pay for your services.  On the other hand, some people recommend little money down because you won't lose a big down-payment if you can't keep up with the payments. This can be a self-fulfilling prophecy, however, if you have big payments that are difficult to keep up with.  
You'll also need lots of cash on hand to start?working capital?to pay for oil changes and other maintenance, insurance, unexpected repairs, and fuel.  It's also wise to employ the services of legal and business advisers and an accountant before you begin your journey to owner/operatorship. It's better to not only know what you're getting into ahead of time but to also do things the right way from the start.  Ignorance may be bliss but it can cost you a lot of money in the long run. Professional advice may cost you money on the front end but it'll save you money on the other side.
Another consideration to make before you take the ownership plunge is the effect it will have on your family.  Being an owner means may mean that you can set your own hours and choose the jobs you take but that doesn't mean you won't be away as much or even that you'll have the financial freedom to be picky about the jobs you take.  You've got to pay the bills. Many truck owners like the security of working for larger carriers but that means working on the carrier's schedule. When your truck and your livelihood are on the line, you may be away more often than if you worked for someone else.  Being away from your family can be difficult and even destructive.
Being the boss may not be for you.  You could be a fantastic truck driver but being an owner/operator involves much more than just driving a truck and being your own boss.  If you're not prepared for all of the other work involved with running your business like paperwork and tracking down payments, you won't succeed.  Before taking the plunge, talk to other people who have purchased their own truck. Grill them. Ask for details on the best parts of the job and the worst.  Ask if they have regrets. Is there anything they would've done differently?
New or Used?
That is another question.  With a new rig, you have the huge expense but you know where it's been.  Nowhere. Everything is fresh, new working order. Used trucks can provide a great value.  If you can find a well-maintained used rig, it might be more affordable for you. But before you buy, make sure you:
See maintenance records, including oil changes.

Note the mileage.  Engines should go close to a million miles before they need to be rebuilt.  If that's soon, it'll be a huge added cost but will add to the life of the truck.

Check the tires.  Does it need new ones?  What is the tread depth?
If you're thinking of buying a used truck, find a used truck dealer with a good reputation.  You should get a bit of a warranty to take care of immediate problems and to ensure you're not buying an 18-wheeled lemon.  They may offer a good extended warranty to be sure to ask about it. It can be expensive but if it covers major parts of the vehicle, it may be worth it.

Do Your Homework
Whether you're buying a used truck or a new one, do the research.  Find out about the individual truck's history as well as the history of the model of truck.  Look for any problems that people may have experienced with it. Research the dealership as well.  
Also, do your homework on becoming an owner/operator.  Know all of the work involved and exactly how much it will cost you up front and along the way.  Becoming an owner of your own big rig, your own business, can be a lucrative and rewarding endeavor.  Go into it prepared with knowledge, and you'll increase your chances of success.

Trucker Search helps owner/operators find companies to work for to help your business grow.  Post your resume with your truck details or let carriers all over the country find you. Everything you need is just a click away at TruckerSearch.com.