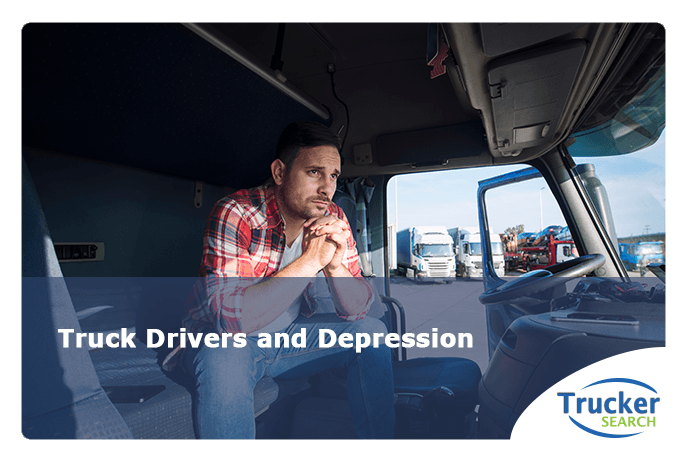 In the U.S., it is estimated that 16.1 million people suffer from a major depressive episode in a given year.  Truck drivers are not immune. In fact, they experience it more. A 2018 study appearing in the International Journal of Environmental Research and Public Health found depression in truck drivers occurring at a higher rate than in the overall population, 13.6% as opposed to 6.7% of all American adults.  Why is depression so prevalent in the trucking industry?
Risk Factors
Unfortunately, driving a truck runs through the whole gamut of risk factors for developing symptoms of depression.
Lack of sleep.  Insomnia and depression go together like peanut butter and jelly.  Of all people who suffer from depression, 80% have insomnia.  The relationship works both ways with the people who have insomnia eventually developing symptoms of depression.  It's not easy to maintain healthy sleep habits while on the road.
Loneliness.  Even with a busy delivery schedule, extended periods away from home can be lonely for drivers.  The loneliness can be severe and can lead to hopelessness and depression.
Unhealthy Lifestyle.  Spending hours upon hours sedentary behind the wheel of a truck has led many drivers, 69% of them, to be obese.  Obesity, along with exercise, can contribute to depression.
Signs to Look For
Depression is more than feeling sad.  Profound sadness is certainly a major part but other indicators often go along with it.
Extreme irritability and anger
Anxiety
Restlessness
Loss of interest in activities that used to interest you
Lack of sleep or too much sleep
Lack of energy
Weight loss or gain (unintentional)
Feelings of worthlessness or guilt
Difficulty concentrating or remembering things
Body aches
Thoughts of death or suicide
How Drivers Can Beat the Odds
There's no magic wand that you can wave to make depression go away.  The usual course of treatment for Major Depressive Disorder involves psychotherapy and antidepressants.  As for being able to drive a truck while on antidepressants, FMCSA allows it if the medical examiner signs off on it.
Whether you have Major Depressive Disorder or just mild depression, there are some things that you can do that may help alleviate the symptoms.
Eat better.  This requires extra work because truck stops are full of unhealthy foods.  Get a fridge and microwave for your truck so you can bring healthy foods from home or shop at a grocery store while on the road.  Eat foods rich in antioxidants like beta-carotene from apricots, broccoli, cantaloupe, carrots, pumpkin, spinach, sweet potato and Vitamin C from blueberries, grapefruit, kiwi, oranges, peppers, tomato, and Vitamin E from things like nuts and seeds.  Include lean, protein-rich foods for energy like fish, turkey, and chicken as well as complex carbs in the form of whole-grain foods.
Improve your sleep habits.  Trying to get regular, comfortable sleep can be a challenge on the road.  Your sleeper isn't the same as your bed at home, and often you have to park all night in a busy truck stop next to other trucks with their loud engines running all night.  Try to park at a distance, if you can, but be sure you're parking in a safe, well-lit place. Don't use electronics like phones and laptops right before bed because the blue light from the screen can suppress the melatonin in your system that you need for sleep.  Wear earplugs and a sleep mask to keep distractions out. Other tips on getting better sleep on the road can be found here.
Get regular exercise.  On the road, regular exercise can be as elusive as a good night's sleep but it's important for your health that you get out there and try!  Keep some hand weights in your truck. Get out and walk when you're on a break or before you hit the road or hit the hay. So get moving whenever you can!
Drive away the loneliness.  Call/Skype friends and family often.  Hearing the voices and seeing the faces of your loved ones as much as you can when you can't be there in person.  Many carriers let their drivers bring along family members or pets to keep them company. Having someone in the cab that you can talk to, be it human, canine, or feline, can keep loneliness at bay.  When driving, listen to upbeat music that you love or find an interesting podcast or audiobook to listen to keep your mind focused on something.
If you find that these changes aren't enough to help with your depression or that it's an urgent matter, SAMHSA's helpline, 1-800-662-HELP (4357) can help you find you a professional that can help or go to any emergency room, if necessary.
If you're looking to start a career behind the wheel of a big rig, Trucker Search can help. Connecting truck drivers and employers is what we do.  It's quick, it's easy, and it can get you that dream job on the open road. Get started today at TruckerSearch.com or call us at (888)254-3712.
Sources:
https://adaa.org/about-adaa/press-room/facts-statistics
https://www.ncbi.nlm.nih.gov/pmc/articles/PMC6164547/
https://www.businessinsider.com/trucking-obesity-high-risk-2018-5
https://www.webmd.com/depression/features/sleep-problems#1
https://health.clevelandclinic.org/put-the-phone-away-3-reasons-why-looking-at-it-before-bed-is-a-bad-habit/
https://truckersearch.com/blog/dont-be-a-drowsy-driver/
https://www.samhsa.gov/find-help/national-helpline