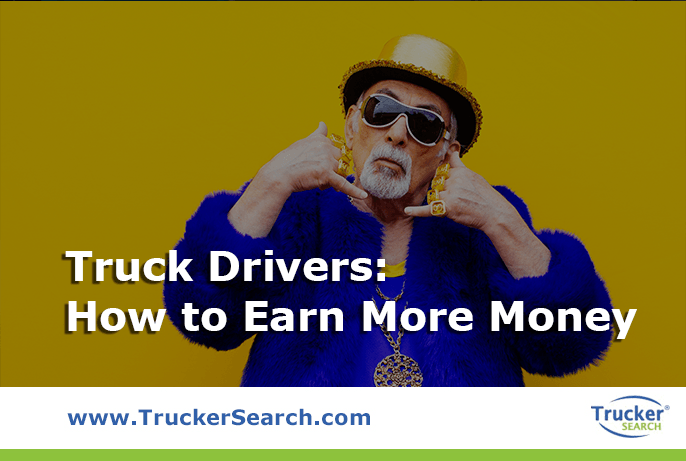 The trucking industry is booming and the driver shortage has put good, reliable and experienced drivers in high demand.    Some estimate the shortage at 100,000 truck drivers less than what is needed to keep up with the current demand.  Whether you're looking to jump into this growing field or you're a driver looking to make more money, here are a few steps you can take to maximize your earning potential.    
Plan Your Trip
Before your wheels even hit the road, your trip should be organized and well-planned.  When you're prepared for obstacles, you're better equipped to avoid them. Efficiency feeds on thorough planning!    
Map it.  And not just with your phone.  Bring a map. Yes, an old-fashioned, paper map that you'll never be able to fold back up again.  If you run into any technical problems, you'll still be able to find your way.
Find the fuel.  Know where all the fuel stops are.  If you've ever run out of gas, you know how important it is to know if you're not going to see any gas stations for the next 50 miles.  
Calculate your time.  Do a thorough calculation of your time on the road and don't forget about those pesky time zones!
On the Road
While out on the road, there are a few things that you do to help increase your pay, other than quickly getting from Point A to Point B.
Talk to your dispatcher.  Keep your dispatcher informed of anything important happening along the way that could impact the delivery.  They're limited to what they can see on their screen.
Take breaks.  Spending all day driving can be physically and mentally exhausting.  While it may seem like the best thing to do is to get to Point B as fast as you can, it's important to allow yourself time to take a nap, eat, get fuel, etc.  Fuel your truck and your body. Of course, time not driving means you're not earning money but if you are tired and have an accident, you may lose even more.
Keep in shape.  Life on the road can be unhealthy.  We all know that being sedentary behind the wheel and eating food high in fat can lead to severe health problems but it can also greatly impede your stamina on the road.  A healthier body will need fewer sick days and will be able to better handle long hours behind the wheel.
Beef Up Your Resume
Improving yourself and adding skills and experience will help you rise above the rest.
Get trained.  Most truckers will have their CDL but being trained and having the certifications to transport gases, flammables, corrosives, combustibles, and other hazardous materials will allow you to demand more money.  Someone who can drive different types of trucks can also potentially earn a higher salary. Tankers, reefers, and even heavy construction machinery that you may haul to a site such as dump trucks and cranes, can bring in more money.
Get experience.  Put in those hours.  You're not going to get your CDL and immediately start bringing home the big bucks.  Experience pays and there's no way around it.
Find the right company.  Jumping from company to company may seem like a good idea, especially with the hefty sign-on bonuses that some trucking companies offer,  but it might not earn you the most money. Sure, those bonuses are enticing, but loyalty can go a long way too. Many trucking companies expect to lose a big percentage of their rookie hires?the job may not live up to the expectations of the dream job they signed up for and the time away from family can be more difficult than they imagined.  Regardless of the reason, many are weeded out in the first year and you may just be handsomely rewarded for sticking around.
Look for those bonuses.  Many companies offer more than just sign-on bonuses.  More and more companies are looking to sweeten the pot for drivers by offering fuel savings bonuses and safety bonuses.  As with anything, always read the fine print!
Change locations.  Your location may have an effect on your salary.  According to the Bureau of Labor Statistics, the median income for truck drivers in 2017 was $44,500 nationwide but it varied from state to state with West Virginia being lowest at $40,080 and Alaska at a much higher $56,250.  Some companies will pay more for truckers willing to drive in New York City.
Buy your own rig.  This isn't something every trucker can or wants to do.  It takes a lot of money. Even if you plan on financing it, you'll need a large down payment if you want your monthly payment to be affordable.  And when you're starting out, you'll need a significant amount of money for working capital to pay for things like insurance, oil changes and other maintenance of your truck, unexpected repairs, and fuel.  But if you can swing it, being an owner/operator can earn you a triple-digit salary, if you work hard and make smart decisions.
One of those smart decisions would be to try out Trucker Search where you can post your resume and let employers find you.  Or you can actively search our database of carriers looking for great drivers like you.
Go to TruckerSearch.com today and be on your way to reaching your earning potential!