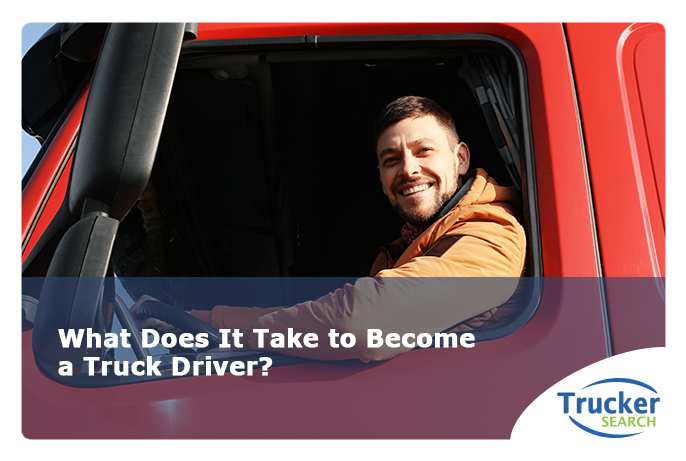 If you're stuck in a dead-end job, looking for a career change or you're just starting out and are in search of a career that will take you places, a career in the trucking industry might just be what you're looking for.  Driving a truck can be a rewarding and lucrative career that could give you security and financial independence. Do you have what it takes?
In order to become a truck driver you must:
Have a valid CDL
You need this to be able to legally drive a truck.  Many trucking companies offer CDL training or reimbursement and will hire you before you've passed the test but otherwise, you have to obtain your CDL on your own.
Be at least 18-years-old
You can get your CDL if you're 18 or older but only to drive in-state.
Have a valid driver's license
You must have your Class D operator's license before you can get your CDL.
Provide driving history
You must provide a driving history for every state you've lived in for the past 10 years.  
Pass a medical exam
There are some medical conditions that will prevent you from driving a truck like hearing or vision loss, epilepsy, or insulin use.  You also may not be able to drive if you take prescription medications such as benzodiazepines, anti-seizure medications, anti-inflammatories, and painkillers.  If prescribed by a doctor, some medications may be allowed by a medical examiner. Marijuana, however, is never allowed even if it is prescribed to treat a medical issue.  Good hearing is a requirement and you must have 20/40 vision with glasses or lenses and a 70-degree field of vision in each eye.  You also cannot be colorblind.
Pass a drug test
While you don't have to pass a drug test to get your CDL, it is a requirement by the FMCSA that trucking companies require any potential employee passes a drug test and if hired, is routinely drug tested.
To be hired by a trucking company, you may have to:
Be 21 years of age
Technically, you don't have to be 21 but it is currently the law that you have to be 21 years of age to be able to drive a truck across state lines.  For this reason, a lot of trucking companies have policies of only hiring people who are 21 or older so they put you on any route instead of just an in-state one.
Have a clean driving record.
Trucking companies will scrutinize your driving history and probably won't hire you if you have a long history of speeding tickets or accidents.
Have a clean criminal history.
Having a criminal record may or may not affect your ability to be hired.  It may depend on what crimes you committed but some companies may be willing to give you a chance.
A high school diploma
Most trucking companies will prefer drivers who have graduated from high school.  If you didn't get your high school diploma, you can improve your prospects by getting your G.E.D.
Have endorsements
Your odds of being hired by a trucking company will be higher if you have earned endorsements for double trailers, tankers, hazardous materials, etc.  These endorsements require extra training and certification but having them makes you more marketable and will probably earn you higher pay as well.
There are other considerations to make before you decide to become a trucker.  The hours can be long and you may be required to do long-distance hauls that would take you away from home for days at a time.  It is possible to work shorter routes, of course, but opting for shorter routes may hinder your job choices. Fortunately, the shortage in truckers in recent years has caused many carriers to figure out ways to offer shorter routes to accommodate truckers who want to be home every night.  
Becoming a truck driver takes discipline.  Carriers have strict schedules and won't tolerate employees who call in sick frequently or don't show up for work, because it costs them money.  They need to be able to rely on their employees to keep their trucks rolling.
Now is the perfect time to become a truck driver.  There are more job opportunities than ever before and some carriers are offering high salaries and bonuses to dependable drivers.  If you've have your CDL and are looking for employment opportunities, go to TruckerSearch.com.  Here you can post your résumé as well as search our vast database of companies looking for drivers.  It's a great resource for any driver starting out in the trucking industry.
Sources:
https://www.fmcsa.dot.gov/registration/commercial-drivers-license/states
https://www.fmcsa.dot.gov/regulations/medical/medical-examiners-certificate-commercial-driver-medical-certification
https://www.cga.ct.gov/2000/rpt/2000-R-0153.htm
https://www.fmcsa.dot.gov/regulations/drug-alcohol-testing-program