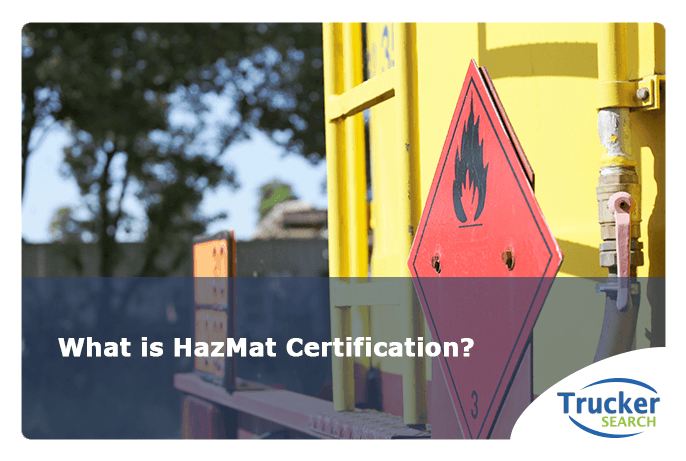 To be successful in any field, it's important to be a hard worker, safety conscious, and versatile.  Versatility in a truck driver is the ability to adapt in order to get a job done, whether it's taking on a new route, literally going the extra mile, or being able to haul any load.  In order to be able to haul anything, CDL endorsements are needed, each requiring additional testing. The CDL endorsements are T (Double/Triple Trailers), P (Passenger Vehicles), N (Tankers), H (Hazardous Materials) X (Tanker plus Hazardous Materials), and S (School Bus).  Hazardous materials are potentially dangerous cargo that falls into one or more of the following categories:
Explosives

Gases

Flammable Liquid and Combustible Liquid

Flammable Solid, Spontaneously Combustible, and Dangerous When Wet

Oxidizer and Organic Peroxide

Poison (Toxic) and Poison Inhalation Hazard

Radioactive

Corrosive

Miscellaneous
Because of their potential danger, hazardous materials need to be handled differently than other materials.  Besides proper handling procedures, drivers need to be trained on what to do if there's an accidental spill.
Having a HazMat certification makes drivers more marketable. Trucking companies look for truckers who have obtained their HazMat certification because they want drivers who can drive any load, even if they rarely handle hazardous materials.  Typically, drivers with their HazMat certification find jobs quicker and earn higher pay because they are in higher demand and there's less competition.
Since 9/11, those looking to be certified to haul hazardous materials have faced strong scrutiny due to the increased threat of hazardous materials being used to cause harm to the public. Strict requirements have been put in place.  In order to transport any materials that are deemed hazardous, a hazmat certification is required. HazMat Certification applicants must have:
A current CDL

Proof of full legal name

Proof of U.S. citizenship or permanent legal presence

Proof of identity and date of birth

A Social Security Number

A valid DOT medical card
And must also:
Pass the Hazardous Materials Endorsement Knowledge Test

Pass a TSA criminal background check

Pay all associated fees
These requirements vary from state to state and individual state requirements can be found here. The HazMat test covers Federal and State HazMat regulations, how the various materials are transported, and the proper way to safely load and unload them.  
Failing to pass the HazMat test or meeting the aforementioned endorsement requirements has no effect on a driver's CDL.  The TSA will notify applicants whether or not they have been cleared after they receive all the information they need for a criminal background test.  A failure can be appealed as long as it is done within 60 days.
Obtaining a HazMat Certification is a great way for drivers to expand their knowledge and open more doors.  Specialized truckers who can handle any job are always in high demand.
For drivers with a HazMat Certification, Trucker Search can be a useful tool in finding hiring companies looking for HazMat drivers.  It has searchable jobs so truckers can see exactly what hiring companies are looking for and it allows truckers to post a resume that includes all qualifications along with any added endorsements.  It's a web-based service that's quick and easy to use and a vital tool for truckers in search of great companies to work for. Start your search today at TruckerSearch.com.
Sources:
https://www.fmcsa.dot.gov/sites/fmcsa.dot.gov/files/docs/Nine_Classes_of_Hazardous_Materials-4-2013_508CLN.pdf
https://www.dmv.org/articles/how-to-apply-for-a-hazardous-materials-endorsement/
https://www.dmv.org/cdl/hazmat-endorsement.php
https://www.dmv.org/apply-cdl.php