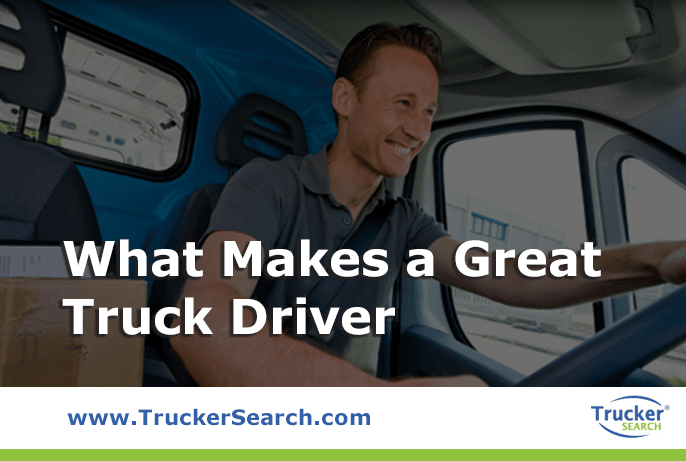 Trucking is one of the most in-demand jobs there is, and as long as goods need to get from Point A to Point B, the need for great, dependable drivers will be there.  Truck drivers are so much more than just someone who drives a truck. They're responsible for customer paperwork, dealing with mechanical issues as they arise, loading and unloading freight, keeping driving logs, and even possibly transporting hazardous materials.  They are a vital link in the chain that brings a product from design to the shelves, and as a company, you don't want to find a good truck driver, you want to find a great one.
What makes a great truck driver?
1. Reliability
The world runs on deadlines and a great driver will consistently be there to meet them.  If one person in the chain doesn't show or does their job poorly, everything gets delayed and that one unreliable worker could end up costing you in the long run.  
2.  An Excellent Driving Record
A good driving record is an indicator of professionalism and safety.  
3.  Alertness
A great driver is always alert.  Weather, traffic, and hazardous driving conditions can cause dangers in a matter of seconds, and it's important to always be aware and to take breaks when fatigue sets in.
4.  Physical fitness
In a profession where a major portion of the work is done sitting down, it's essential to take the extra steps needed to stay in shape.  A fit driver is more alert and has the stamina needed for long drives, as well as the strength needed for loading and unloading cargo.
5.  Sense of Responsibility
Truck drivers are not only responsible for their truck and their cargo getting safely to their destination, but they are also responsible for the safety of other drivers who share the road along the way.     
6.  Independence
Anything can happen on the road.  A great driver will be able to handle any emergency situation with their truck and their cargo without supervision.
7.  Mechanical Skills.
Although mechanical skills are not a requirement for being able to drive a truck, a basic knowledge of minor repairs such as changing a fuse or a tire can be helpful and make your cargo able to meet its deadline.
8.  Stress Management
Driving a truck, meeting deadlines, and dealing with traffic can be stressful for anyone.  Being able to manage day-to-day stresses while remaining calm and cool is a great asset in a driver.
9.  Good Communication Skills
Throughout the day, a truck driver is in contact with the company, the clients, warehouse workers, and many others.  Good communication skills with a positive attitude go a long way to make any situation better and represent your company with professionalism.

10.  Honesty
Cutting corners can be downright dangerous in the trucking industry.  Great drivers follow all safety rules and regulations and can be trusted with whatever cargo they carry.
At Trucker Search, we know what makes a great driver because we've helped so many of them find great companies to work for.  Quite simply, we're a matchmaker for truckers and companies who need to transport freight. As an employer or recruiter, you can search for drivers who are in a specific location, have certain trailer experience, years of driving experience, etc., and find the right match for your company.  As a driver, you can find a company to work for long-term or short, part-time or full, at a local or nationwide company. With Trucker Search, everybody wins. Go to www.truckersearch.com today and begin your search for a great trucker or a great job today!