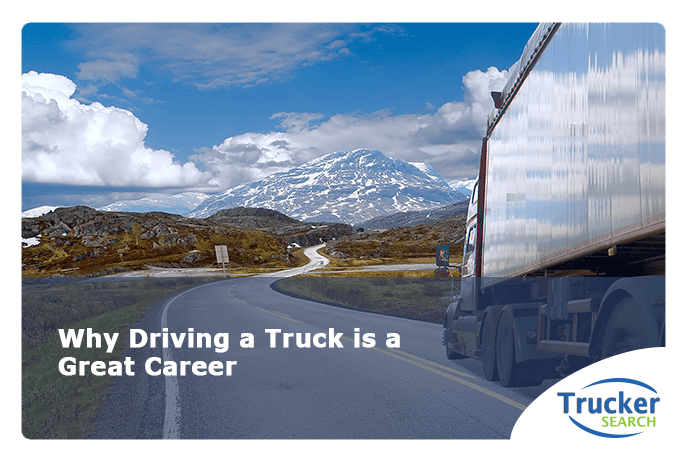 "Nothing behind me, everything ahead of me, as is ever so on the road."?Jack Kerouac, On the Road
Many people have a little Jack Kerouac in them, drawn to the open road and wherever it may lead but they never really act on it other than the occasional road trip across a couple of states.  For others, life on the road is not only a big part of life, but also a stable and rewarding career. They are drawn to driving a truck because of its independence and freedom. Truck drivers are not tied to a desk or stuck inside of a factory?the outside world is their office!  
Drivers are an important link in the country's supply chain.  Whether they're moving freight from a warehouse to a plane for further transport, from a train to a store, or from a manufacturer to your doorstep, truck drivers keep it all moving.
For owner/operators, there's a great deal of independence.  They negotiate rates and often set their own hours, running their own business from a truck that they own or lease.  With one truck, you can be a small business owner with control over your career. 
Of course, if you don't want the responsibility of maintaining and operating your own truck, there are many carriers who are looking for reliable drivers to join their teams.  They do the planning and negotiating and you just drive.    
Drivers can earn excellent wages.  According to the Bureau of Labor Statistics, the median income for truck drivers in 2018 was $43,680 a year and owner/operators can more than double that amount.  The recent driver shortage has not only caused carriers to offer sign-on bonuses, but also more flexible hours and shorter routes when possible.  Some carriers will even pay for drivers to earn their CDL with the stipulation that they work for the company upon completion. They need drivers now and many are willing to go the extra mile to find and keep the good ones.
Driving a truck isn't easy.  The hours are long, the highway can be monotonous, and the lifestyle is often a lonely one.  To the right person, on the other hand, the independence, self-sufficiency, and the feeling of community with other drivers can feel like home.  You may have to load and unload your freight and need to have some basic knowledge of truck mechanics in case of a breakdown.
No matter if you drive for a carrier or drive your own truck, there are regulations to follow.  Hours of Service rules require that drivers work no more than 14 consecutive hours including the loading and unloading of cargo, taking care of paperwork, etc.  Between shifts, drivers must spend 10 hours not working before being eligible to drive again.  
One of the major advantages to being a truck driver is the job security.  With the ATA prediction that the driver shortage could reach 160,000 by 2028, carriers will be eager to retain the drivers they have.  It also has carriers expanding their search for new drivers. Many offer help for veterans who may be looking for a career change and more and more women are joining the trucking industry and finding success.  
Life on the road isn't for everyone but for the right person, every day can be an adventure.  If driving a truck is the life for you, Trucker Search can help you find a great company to start a career.  Post your resume or search our growing database of companies in search of drivers to join their teams. Start your new career in trucking by visiting Trucker Search today.
Sources:  
https://www.bls.gov/ooh/transportation-and-material-moving/heavy-and-tractor-trailer-truck-drivers.htm
https://www.trucking.org/ATA%20Docs/News%20and%20Information/Reports%20Trends%20and%20Statistics/ATAs%20Driver%20Shortage%20Report%202019%20with%20cover.pdf