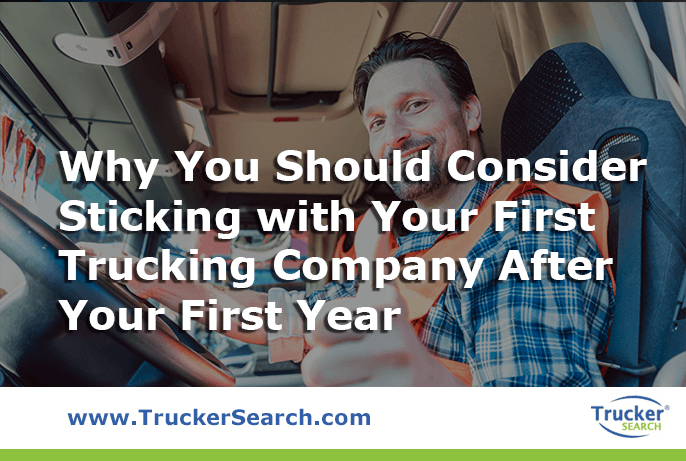 You're a newbie to driving a truck.  You got your CDL and you've found a company willing to take a chance on you and give you a shot.  It's their hope that they're making a good investment and they've found a new, dedicated driver who's going to build a long and fruitful career with their company.  
For many drivers, that first company is merely a stepping stone to bigger and better things.  The companies that pay the most money have the ability to hire the most experienced drivers and you, fresh out of truck driving school, are not one of those.  So your plan is to gain some experience with the first trucking company to hire you and then hit the road (get it?).
Those trucking companies that hire entry-level drivers tend to have a high expectation of failure.  In fact, many of them lose 90% of new drivers in the first year. But you're not one of those either.  You do your job well and understand that there will be bumps in the road (get it?) but you're gaining experience that will only further your career.
In a sea of quitters, you made it, you prevailed.  Now, a year after you began, you're considering moving on but should you?  If you leave after a year, you become a newbie all over again at a new company.  Does it make sense to leave a company where you've proven yourself only to be back on the bottom rung needing to prove yourself all over again?  
When you started middle school, you were the little guy who didn't know where anything was or what to do but eventually, you proved yourself and made to 8th grade.  King of the hill. Life was good. Then what happened? You went to a new school with different rules and you didn't know where anything was. You were a lowly Freshman.   At the bottom again.
That's what it's like to go to a new company after a year.  You become a Freshman and have to prove yourself all over again.  Of course, this isn't to say that not moving to a new company is always the right decision.  After all, what would've happened if you stayed in 8th grade?  You would've been stunted. And it would've been weird for the other kids.
At your first company, you exceeded expectations so why not see where it goes?  Companies that hire entry-level drivers aren't inherently bad companies to work for.  They may very well value those who make it through their rookie year and reward them with some great opportunities.  If you can do the job safely and efficiently, you'll begin to gain respect. After a year with your first company, they will look at you differently.  They'll realize that you're less of a risk and are dependable. They'll know they can depend on you to do the job efficiently with minimum issues which means you're maximizing their profitability.  After a year, you've worked out all of the kinks, learned all of the procedures and tricks and you can give your employers smooth, on-time deliveries.
Once you've proven yourself with a year of dedicated service, you should receive a decent increase in pay as well as the opportunity to earn some hefty bonuses.  Working your way up the ladder and earning a reputation as a good producer can open you up for better jobs whether they are specific jobs within the company or simply be trusted with better routes.
Ultimately, only you can make the decision to stay or go.  Because many people move on after they've gained some experience, you may think it's what you're supposed to do.  Don't make that assumption. Weigh all your options but remember you may already be in a position where you are highly valued and can make a successful and profitable career.