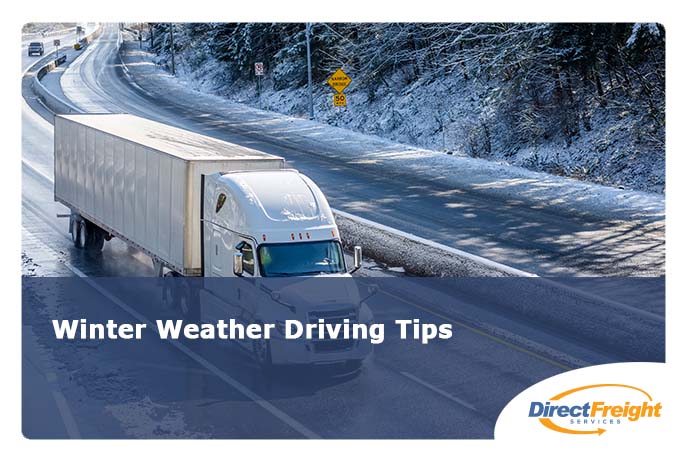 Winter seems to come too quickly. It's a beautiful season filled with opportunities to see the family, eat great food, and celebrate the holiday season, but winter is also one of the most dangerous seasons as there are all the usual hazards coupled with ice and snow. As the days continue to get colder, it is crucial that you are prepared for the challenges of winter, in both your home and work life as driving in near-freezing temperatures and potentially inclement weather can be hazardous.
Driving in Severe Weather
Considering the problems that can occur while driving is the first step to building safe winter driving habits. The first thing to take into account when you are planning on taking your next route is to make sure you are familiar with the weather in all locations you will be driving through. Some places will be warmer or colder than others, and it is crucial that you know which locations will have hazardous conditions such as snowstorms, icy roads, or freezing rain. Being familiar with the challenges you will face on the journey and continuing to check the news (or a dependable weather app) will help you be prepared. 
The most important thing to know when driving in potentially icy locations is that going slowly can save lives. Speed is very highly valued in the trucking industry, and it can be very hard to choose to slow down especially when most drivers are in a time crunch. However, in hazardous conditions, the most responsible thing to do is slow down to a comfortable and safe speed, being sure to follow any emergency directives from road signs even if this results in a delayed arrival. 
In addition to this primary guideline, you should also complete pre-travel checks of your truck to ensure it is well-equipped and functioning correctly for the trip. Other important tips for safe driving in any season, but especially the winter, include following traffic at a safe distance, staying to the right, checking your brakes often and keeping them clear of winter slush overnight, avoiding distractions, and making sure your headlights are clear. While you are driving, do your best to avoid panicking, even when you face scary situations. Staying calm and using common sense will help you through even the worst problems. You can always pull off the road and call for assistance if you believe the conditions are too unsafe to continue.
Stay Safe, Stay Warm
Icy conditions wreak havoc on the plans of drivers (both commercial and civilian) all through the winter season. While there are hazards on the road all year round, from animals and natural dangers, winter takes the cake as the most dangerous season of the year because it combines all the risks with ice and snow. However, many incidents are easily avoided by using common sense and making sure to follow the guidelines of going slowly when necessary and taking steps to ensure you are staying alert, aware, and prepared for any challenge winter throws at you.