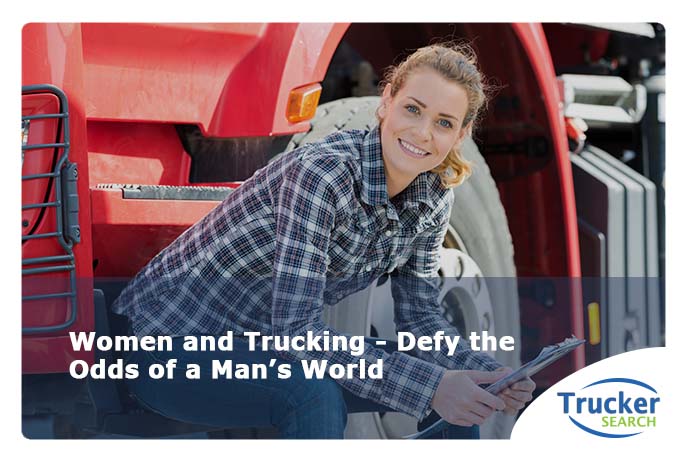 Picture a truck driver in your mind, he's probably an older man, right? This is a very common trope, that drivers are all older men, but this really isn't the case anymore– welcome to the 21st century! There are drivers representing nearly all shapes, sizes, and demographic backgrounds. A little known fact is that there are many women who work in the industry. Women are changing the trucking world for the better and making it a more diverse and successful industry!
Stories You Should Hear
The tale that a lot of women hear when entering the industry is "oh, trucking is for men." Sometimes this dissuades women, but for those who really love the career like Christine Bosgraaf and Melissa Bencivengo-Ahorrio, it's a personal challenge to prove that trucking is also a great career for women.
Christine Bosgraaf is a driver and driving instructor from Sanger, Texas. For the first 20 years of her working life, she was a veterinary technician in the biomedical research field in Illinois. She was laid off from her job in the lab because of a lack of funding. During her time searching for a career, she noticed a program that would provide training to receive her CDL in 20 days. She took on the challenge, and afterwards got a job working for Schneider and has been working there for almost the entirety of the past 8 years! Six months ago, Schneider recognized Bosgraaf's seniority in the field and provided her the opportunity of being an instructor for future employees. Now Bosgraaf works to instruct many men and women on the rules of the road and all the skills they need to attain a CDL! Read more about Christine here!  
Melissa Bencivengo-Ahorrio
Melissa Bencivenego-Ahorrio is another woman driver who hails from New Jersey. She has always been brash, bold, and confident, which has helped her excel in traditionally male-dominated roles including being a mason, drill rig driver, carpenter, tree service employee, and finally truck driver as of almost four years ago. Melissa knew that trucking would be a great career for her because it offered great opportunities to travel and get out on the road. Read more about Melissa's story here! 
Consider Trucking as a Career
There are countless stories of women driving and having very successful careers. The transportation industry in the United States is always growing, and right now is a great time to jump in if you think trucking is right for you! As a woman in trucking, you will likely face challenges that men do not, which is unfortunately a reality of navigating traditionally male careers, but often the benefits of a career in trucking outweigh the challenges. If you enjoy traveling, navigating, and interacting with all kinds of people, trucking might be a great career for you. If you decide to try it, don't let anyone stop you from pursuing your dreams!
Final Thoughts
Trucking is a great career for all different kinds of people. Anyone who sets their mind to it can form a successful career in the transport industry. As has been proven by the wonderful women we've highlighted, truck driving is no longer just a 'man's world,' it's everyone's world, and has become all the better for it! This goes for anyone, if you feel like trucking is a good career choice for you, go for it and don't let anyone tell you that you can't do it!